by John Baron
Historic Bramley Baths is set to celebrate 10 years as a community enterprise by reintroducing its popular New Year's Day Dip.
A group of campaigners took on running Bramley Baths from cash-strapped Leeds City Council on New Year's Day 2013 when the facility was threatened by budget cuts.
The new era was marked by a 'dip' in the pool, which saw dozens of people don fancy dress and all jump into the pool at the same time.
The event, which famously featured in The Guardian newspaper, proved so popular it ran for a number of years afterwards, until a combination of the COVID pandemic and other issues temporarily halted it.
"We wanted to mark the tenth anniversary of the Baths being taken over from the council and and being run by the community and bringing back this popular event was the first thing we wanted to do," said duty manager Jennie Willetts.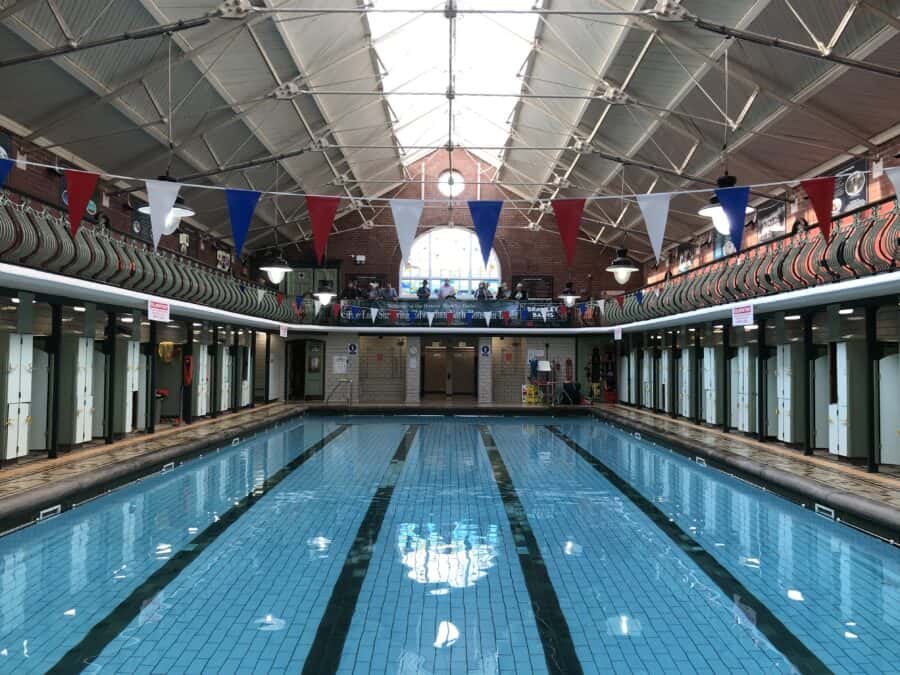 CEO David Wilford said: "The community is a massive part of what we are doing here and we wanted to celebrate our anniversary with the community here in the pool."
Mr Wilford said the Baths has gone from strength to strength over the past decade, opening longer hours and training thousands of men, women and children to swim via its extensive programme of lessons. Its board is made up completely of volunteers, making the organisation people-powered in the truest sense.
"We're an exemplar as a social enterprise across the country," Mr Wilford said. "We're advising similar enterprises across the country in Glasgow, West Sussex and Birmingham.
"Our success is down to our commitment to our values and being true to our purpose of being community led. We major around being the friendly baths and being part of the community we serve."
Mr Wilford pointed to continuous investment and support in staff and the value of teamwork, from the volunteer board, through to staff, customers and other community organisations in West Leeds.
The Baths are aiming to run at least one special event a month throughout 2023 to mark its tenth anniversary, and also have special plans for their community garden. More details of some events will be released next week.
You can book to join Bramley Baths at its New Year's Day Dip for £3 a person by calling 0113 2560949. Dips will be run at 10.30am, 11.15am and 12pm. The Baths is now closed for a Christmas break and will reopen on Wednesday, 28 December.
Over the past couple of years The Baths have completely revamped their 1904 gym with state-of-the-art equipment and offer a range of classes in their studio.
The Baths building is grade II Listed and dates back to the Edwardian times of 1904.
Sponsored content