Words: Iola Shaw
Photos: Simon Cullingworth
As of Saturday Farsley now has its own record store. Record Plant opened at Sunny Bank Mills – and it was packed when I dropped in on opening day.
To find out more about why, in a digital age, a "purveyor of new and second hand records, memorabilia and pop tat" was needed I caught up with Jaimie, JP, Col and Choque as they were restocking after the weekend and getting ready for their first instore gig by the artist "Someone" on Tuesday night.
I asked who the team were and why the store was needed…
They are a four-person collective:
Jaimie Styan, a lifelong Farsley local with a passion for music and the community and making people happy;
John Paul spent his life working at record fairs and in record shops most recently Vinyl Tap in Huddersfield;
Col Griffiths has been a successful graphic designer, art teacher and works at Scrap (within the Sunnybank mills complex), when not out at gigs;
and Choque Hosein links them all – having been active on the Leeds music scene since trying to start out as a record producer at 14 – success came a bit later! Choque moved to Farsley in the 1990s after getting a record deal with the band "Black Star Liner" and 10 years ago started to set up pop-up nights around the city leading to his current thriving programme at the Old Woollen venue elsewhere at Sunny Bank Mills.
Over the past 10 years the vinyl market has been revitalised and the lockdown heightened the desire for music in all forms.
Music makes people happy, lifts spirits and connects them. These connections grow and a focus beyond going to gigs supports this creating a need for a record shop in West Leeds. When Choque heard there was a potential space available in the Mill complex earlier this year it took no time at all for the message to get round and that day plans were afoot – with a bit of relief no-one else got there first.
Each member of the collective will continue with their other ventures but working together brings different strengths, ideas and experience to ensure the business will thrive.
The aim is for Record Plant to be physical shop with the backup of online sales to come soon. Records will be available in-store first, so locals get first chance at rarities and exciting purchases. There is an eclectic mix for sale across all genres and time periods, and stock will evolve to both meet current demand and inspire new interests.
Over 90% of the current second-hand record stock has been locally sourced. The temptation to take home exiting "new to me" items as these collections throw up their secrets has been a challenge during the set-up period.
"Pop-tat" has come about from a response to comments from people within the local music community and is far more than memorabilia for the collector/superfan. Tee-shirts, key-rings coasters and a fascinating mix of curios linking different genres, styes and helping ensure the shop has multiple appeal and is welcoming to all.
This was clear on Saturday. Richard and Tommy (age six and three quarters) from Rodley were totally focused on leafing through the records. Tommy told me he shares his dads love of punk bands from Europe. For Richard this means most of the releases he wants are only available on direct from the continent, unlike the cassettes and CDs of his youth.
Another Vinyl enthusiast I spoke to was Tonij O'Decks, a "semi-retired" DJ who lives in Pudsey. He was there supporting his friends' new venture. He has links to the store already as he runs "open decks" sessions at various venues in West Leeds, with plans for sessions in the store on an ongoing basis.
I spotted plenty of family groups too such as Paul, Helen and their four year old Teddy from Saltaire. They had come to check it out after seeing multiple mentions in what Paul described as his community of "Vinyl Nerds" online and have been impressed by the selection on offer.
The memorabilia for sale is mostly locally sourced, and opportunities to gather more are welcomed. Already some quirky items have cropped up – often within more obvious collections. For example, a large Beatles music and books collection from a local woman was on sale and had included a "Beatles blanket"!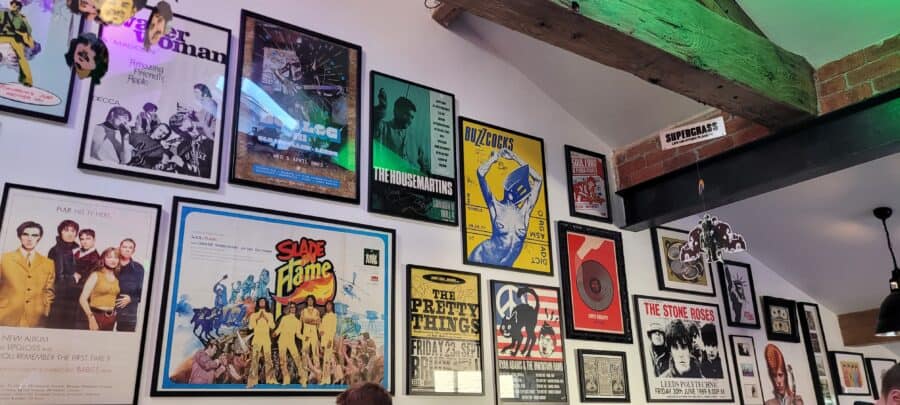 The 'not for sale' personal memorabilia on the walls is worth a visit alone, it reflects how embedded in the city the team running the store are, I'm sure I'm not alone in having a trip down memory lane with a mix of "was I at that one?" and a wistful "I wish I had been" during my visit. This just hints at how invested in the local community and the Leeds music scene, Jaimie, JP, Col and Choque all are.
As I left the guys went back to sorting and getting ready for display a collection of over 2000 7" singles they had picked up. Looking at social media reports of the launch Col said he had been blown away with "excitement and giddiness about opening". I can see why and it's clear the store is well set up to be the focus for a great music community in the suburbs.
Record Plant is open 7 days a week at 1 Old Engine Room, Sunny Bank Mills, LS28 5UJ.
More details on Facebook or Instagram @Recordplantfarsley.
More on Open Decks can be found here, including details of their regular session at Amity Brewery on the first Thursday of the month.