By Katherine Turner
The Leeds United Supporters' Trust have unveiled their 11th LUFC mural created by artist Tom Crowe from Northern Mural Co.
The mural is situated at Whingate Junction, Armley, occupying a huge gable end of the building owned by Foster Enterprises, who make Leeds United scarves.
The mural took just over a week to complete, despite it being rained off. All three of the team helped to get it completed on time.
The design was pitched to the trust in a bid to celebrate Vinnie Jones, an iconic cult hero who played for Leeds United 1989 and 1990 and is funded by FastSigns Leeds and Brown Hirst Joinery, with support from RIM Scaffolding.
Artist Tom Crowe said:
"It has been amazing to work on this project with the Trust to paint Vinnie. He is one of my all-time favourite players. I pitched the design a while ago and we've been working to find a suitable location and here in Armley is just perfect, it's quite overwhelming.

"I even messaged Vinnie to show him the progress and he replied: "F*****g hell, that's the nuts" – so we are buzzing he loves it."
The mural features the logo of LUDO (Leeds United Disability Organisation). Vinnie Jones had a connection with Leeds United disabled supporters. This connection was one of the reasons he resonated so well with the club and its supporters. He was known to spend time during matches with these supporters, which showed his softer side.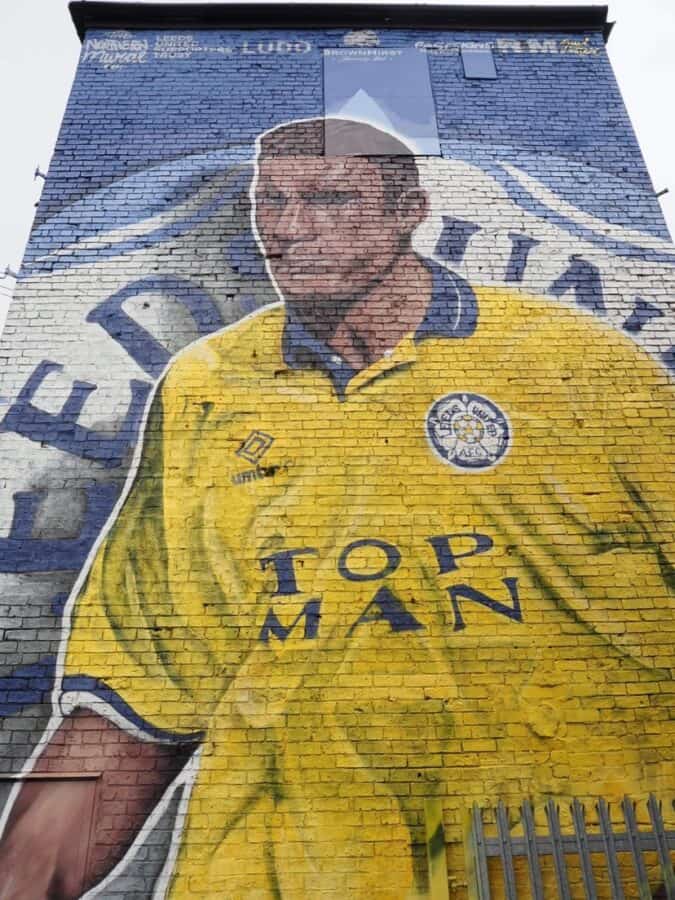 Phil Chidsey, CEO of neighbouring business Shower People, said "Our postcode is misleading, sending people to a different location. Having the mural here as a landmark allows people to know where we are and brings people to Armley. It will put Armley on the map."
Vinnie was part of a season to remember when he played all but one of the league games as Leeds United finished the season as champions of the Second Division, securing promotion to the old First Division in 1990. He was known for his celebrations, joining fans when the team scored, passionately giving the Leeds salute causing the fans to erupt in the terraces.
Fans say that he connected with them in a way few have managed over the years. His passion for the club is still infectious and he carries the words Leeds United Division Two Champion tattooed on his ankle to this day. Vinnie said of his days at Leeds in a Soccer AM interview: "Leeds, one of the best, being accepted by the fans, being a Southerner up there. Whenever I go up there for charity work. I gave my medal back to the club to display."
The mural is the 11th to be commissioned by the Trust following on from the 1992 Leeds midfield mural at Lowfields Road which was created back in 2017.
Another 10 stunning tributes can be found across the city, with the 1972 FA Cup team currently under way at Elland Road. Murals include 'Bielsa The Redeemer' on Oldfield Lane in Wortley, a Gary Speed tribute in Railsford Mount in Bramley and a tribute to Leeds United legends in Pudsey Market Place.
A Leeds United Supporters Trust spokesperson said:
"This has been such an exciting mural to work on, we all love Vinnie, he is a true cult hero and Hollywood actor. The building in Armley is massive and it's definitely eye-catching. We hope our fans love it as much as we do!

"We're really looking forward to hopefully welcoming Vinnie to visit it soon. A big thanks to Fast Signs and Brown Hirst Joinery who have funded the project and helped make it happen. We love working with such talented artists who deliver amazing execution and passion in these stunning pieces of art for us all to enjoy!"
A tour of the eleven murals can be undertaken, with the map route available here.
Hopefully when Vinnie is next over from America he can enjoy the mural for himself.
Sponsored content