Some people might think being colourblind might stop you from becoming a paint mixer – but not Ruksar Ajmal.
The 35-year-old has spent the best part of a decade working at paint recycling and re-mixing social enterprise Seagulls Paint, off Kirkstall Road. He can mix you any colour in the universe at the drop of a hat – and has charming smile to boot!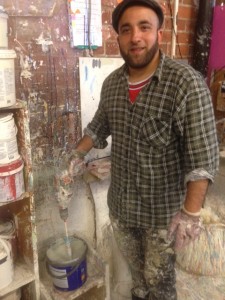 Ruksar has worked in a variety of positions at Seagulls, including decorator and paint mixer – and he reckons it was a 'good few years' before he even realised he was at least partially colour blind. He says:
"I struggle with greens, browns and beiges, but I'm OK with most of the other colours, like red. I wasn't aware of it at first – I'd gone through life and not realised I struggled with certain colours!

"I mix colours through instinct and experience. I experiment a little and ask other staff and customers what they think. I have to be professional about it – I'm proud to represent this company and I can't wing it.

"I don't let the disability stop me."
Ruksar is just one of the dozens of people Seagulls has given a second chance to. He spent six years in prison before being taken on firstly as a volunteer then as a staff member at the social enterprise. He says:
"I love it here. I'd never worked before. It's like being part of a big family and I feel as if I'm part of the furniture I've been here for so long."
As well as mixing paint, customer service and collecting paint, Ruksar takes a lead role in training and mentoring other staff members and volunteers, some of whom have mental health issues or have a prison background. Of his father-figure status, he says:
"If I can draw on some of my experiences and pass them on then I'm happy. For me it's all about passion – if I can get them inspired then great.

"We're all different and have different characters. Volunteers help us to do our job and are treated just the same as staff – they gain great experience and skills here so it's a win win for both of us."
Last week The Dispatch featured how Seagulls Paint's recycling model supports more than 40 volunteers a year and 15 paid members of staff.
For more information, contact Seagulls directly.