Meet the fin-tastic mermaids from Bramley who are making a splash as Leeds bids to become the cultural capital of Europe.
Professional performer Lucy Meredith and the spectacular Bramley Mermaids club took to the water at Bramley Baths this week, performing a brand new water dance routine and swimming in a captivating tail in the wake of Leeds submitting its ambitious European Capital of Culture Bid.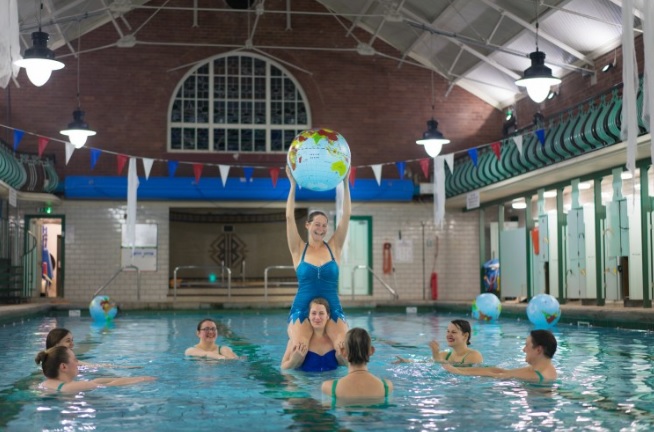 The group were helping to launch a new appeal which will see the bid team shining a light on some the weird and wonderful cultural activities taking place in communities across the city.
The magnificent mermaids were formed by Lucy, a former competitive swimmer, who joined forces with choreographer Zoe Parker four years ago to form unique performance troupe Yorkshire Life Aquatic CIC.
They were aiming to recreate some of the glamour of Hollywood and vintage synchronised swimming in Leeds.
After being dubbed "The Mermaids" shortly after, they decided to live up to the name by buying the beautiful tails to incorporate into some of their activities.
Based at Bramley Baths, they choreograph spectacular performance pieces in and out of water, in parks pools, on beaches, at festivals, and even in fountains.
Lucy said:
"People started calling us the Mermaids back in 2013 so we decided to buy a tail to try out and it was really fun, so we started introducing it to some of our performances. I think the mix of movement, costume, music and water is pretty irresistible.
"Children have been pretty awestruck when they've come to our performances and seen a mermaid swimming in the pool, they also love being to swim in tails themselves, as we have a session of 'tail time' as part of some of our courses.
"We've had more than one occasion when young participants have said 'this is the best day of my life' which is lovely to hear!"
When Lucy's not performing in the mermaid tail, she works to develop new projects with Yorkshire Life Aquatic's cast of up to 22 including professional dancers, synchronised swimmers, women from the Bramley Mermaids Club – a weekly synchro dance class at Bramley Baths and community performers.
Lucy said:
"We take performances to public spaces and non-traditional art venues such as swimming pools so we can reach and inspire more people.
"A successful European Capital of Culture bid would give groups like ours the chance to showcase what we do and hopefully make new links in other cities and form collaborations with other art-related groups.
"It would be great for our club members to perform in other countries too as Europe has some amazing swimming pools!"
Leeds officially submitted its first round bid for the title of European Capital of Culture 2023 as part of a huge street party celebration at Quarry Hill last week.
The bid will now be assessed by a panel of international judges who will decide if Leeds has made the shortlist of bidding cities before the end of the year.
And the city's bid team is urging those involved in amazing projects helping to enhance the city's diverse cultural offer to support the bid by coming forward with their stories.
Stories and pictures could be feature on the Leeds 2023 website or participants could be invited to feature as a special guest blog.
More details on the Leeds 2023 website.