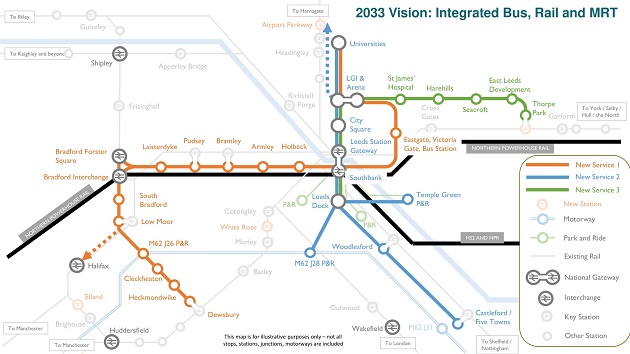 Proposals for a new mass transit system around West Yorkshire will be discussed on Monday, writes Chris Young.
The "City Region Transit Network" is an ambitious plan to create new public transport links between the major cities of West Yorkshire.
One of the lines that will make up the system cuts through West Leeds, with proposed stops in Pudsey, Bramley and Armley. It links Dewsbury to the University area of Leeds, via Bradford and Leeds city centres.
Another would link Castleford and Junction 28 of the M62 to the University district of Leeds. And the third will link Thorpe Park to Leeds Dock.
The Bradford aspect of the network will be discussed on Monday night.
It would include stops in areas not currently linked to rail networks, including Heckmondwike, Cleckheaton, Junction 26 of the M62, "South Bradford" and Laisterdyke.
It will also include stops at existing stations at Low Moor, Bradford Interchange and Bradford Forster Square and Pudsey.
The scheme has been described as being in an early stage of conversation, and is not proposed to open until the 2030s – ideally to tie in with the opening of the High Speed 2 rail link.
Although the plans are in the very early stages, the network could include "mass transit" such as trams.
A report into the plans says:
"Some of these services have the potential to require entirely new infrastructure and whilst complementary to the existing transport system, offer the opportunity to reimagine how other modes such as bus and rail can integrate with it.
"Technologies have moved forwards significantly in the last decade. For example, new battery technologies, hydrogen propulsion and autonomous innovations are changing advance mass transit vehicle technologies, which also improve air quality.
"It is likely that Mass Transit has an important role to play for some of these services given the scale of demand forecast and the economic needs of these communities.
"The Mass transit vehicles would be just one element of integrated future pipeline; the system would need to be integrated within the wider public transport offer, for example through bus services feeding the mass transit services. Bus will continue to have a very important role in the transport network."
West Yorkshire Combined Authority is behind the plan, and it will be discussed at the authority's Bradford District Consultation Sub Committee on Monday.
The committee meets in City Hall at 5pm.