Back in the 1840s this field on Oldfield Lane in Wortley was shown on the maps as a Brick Field with a well, writes Mark Stevenson.
By 1857 The Squirts – the nickname for the Wortley Oldfield Lane Cricket Club – were using the field to play cricket and did so for the next 20 years or so until it is said the landlord threatened to kick them off with a week's notice.
It was then used as a football and rugby ground with the Yorkshire Cup been played there.
In 1931 Oldfield Lane was bought and paid for by public subscription for the children of the area.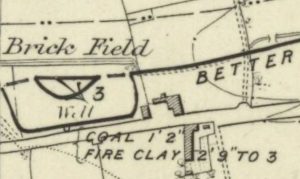 TV Harrison, who the ground is now named after, was head at Hunslet Lane and Christ Church junior schools, he was the main instigator for the purchase of the field but he died before the field was bought.
A campaign to raise money was run in the Yorkshire Evening Post and raised £1,200.
As a football ground, it is said that it was second only to Elland Road in Leeds. Wortley's Wembley was the starting place for many a Leeds United player with the likes of David Batty, John Charles, Paul Reaney and Paul Madeley playing there for Leeds City Boys.
The ground, which has been unused for the past 14 years, has fallen derelict and is now earmarked for local authority housing. It is the subject of a residents' campaign to stop the housing and restore it to its former glory.
Read about West Leeds Dispatch's coverage of the issue here.
___________________
While you're here…
Producing your daily dose of West Leeds Dispatch comes at a cost!
There's the hosting of the website you're reading now, running our popular e-mail newsletter, membership of independent press regulator Impress, attending summer events, paying for equipment etc etc.
We need at least £200 a month just to break even – that's money currently coming out of the pockets of dedicated volunteers who are passionate about what's happening in our communities, connecting you with local groups and organisations as well as holding decision-makers to account and championing local issues.
And all that's BEFORE we even think about paying something for people's time – for instance, our editor puts in more than 24 hours a week in his 'spare' time to ensure The Dispatch publishes daily.
To put it bluntly, after nearly four years of daily publishing, we are not sustainable!
And we need YOUR help to continue …
For the cost of less than a couple of cups of coffee you can help support local community news and continue to give our communities a voice by taking out a subscription for just £4 per month (that's just a pound a week).
As a thanks you'll get your name on a roll of honour on our website. More importantly you will be enabling us to keep bringing you the news that matters about your neighbourhood.
Achieving a bedrock of supporters will give us a firm financial footing and help us plan for the future.
Supporting us couldn't be easier…
Just follow this link.
or set up a standing order with your bank:
Contact us on Paywestleedsdispatch@gmail.com if you'd like to do this.
Over to you …