Words and Photos: Mark Stevenson
Leeds General Cemetery is the resting place of around 94,000 people, most of whom are still buried there. You might not realise this at first sight as most of the headstones have been removed by the University, which now owns the cemetery. 
There are probably hundreds of people from West Leeds buried there. I looked at every headstone still standing and I was able to find the graves of six people from West Leeds.
One was from Bramley Hill (I seem to have mislaid the photo for that one). We have a Frederick Booth, son of William and Ann.
There was a William Booth who was a shop keeper from Stansfield Row in Burley.
We have a William Broughton, whose father Mark was a surgeon of Pudsey.
Benjamin Marshall in 1861 was down on the census as a publican living at 18 New Park Street Beer House. I think this later became the Leeds Arms. which was roughly where the flyover begins on Fountain Street crossing over to where the old Olympic Swimming Pool was. The Leeds Arms would've been under the flyover.
Marshall is buried next to a gun maker who was also responsible for stuffing the animals in the museum at one time.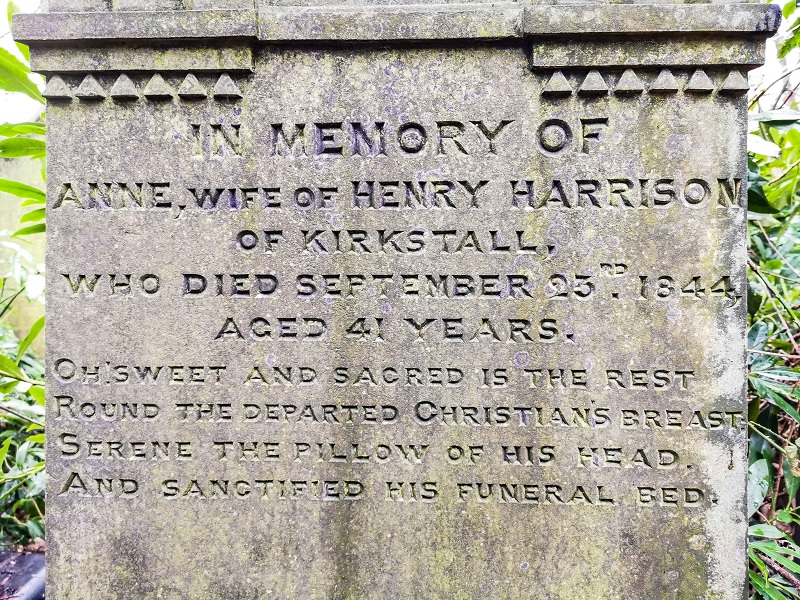 Ann Harrison, wife of Henry, in 1841 lived on Commercial Street in Kirkstall, Henry was a druggist.
Finally, somewhere in the cemetery, there is Atkinson Grimshaw, an artist who once lived in Wortley.
Of the headstones that are left four stood out for me. One was the grave of Susannah Darby, wife of William, not only because of the way she died but William was the first black circus owner in the country. You may know him by his stage name Pablo Fanque he was mentioned in the Beatles song "Being for the Benefit of Mr Kite!" from the LP Sgt Pepper's Lonely Hearts Club Band.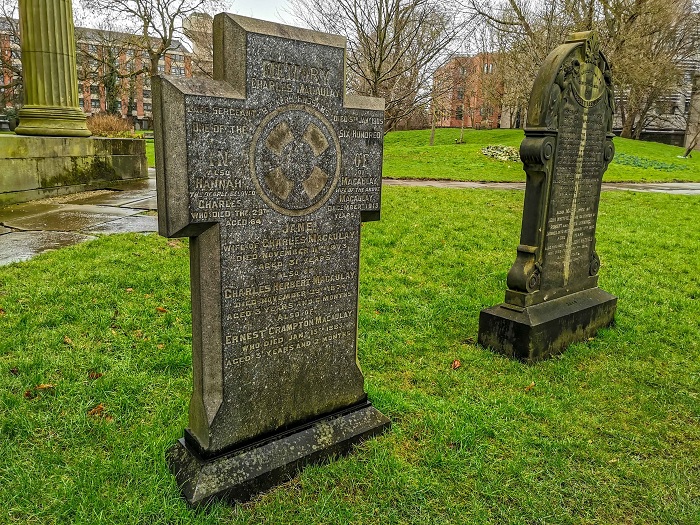 The headstone for 'One of the Six Hundred' Charles Macaulay. Charles, along with between 600 to 700 other men of the Light Brigade of British Cavalry, was ordered to charge the Russian forces during the Battle of Balaclava in the Crimean War.
Around a third of the men who charged the Russian force were killed, wounded or taken prisoner. Only 195 were left with horses when the Light Brigade regrouped.
The 1892 Leeds Fire Brigade Memorial and Ann Carr's grave – she led the Female Revivalist Society in the poor areas of Leeds. Oh and not the mention the thousands of Guinea Graves whose headstones have been used to pathe some of the footpaths.
Help us to continue our work as an independent community-led news site in West Leeds…