Words and photos: Mark Stevenson
Of the five road bridges that crossed the River Aire in town only one was free to cross and that was Leeds Bridge. The other four – Wellington, Monk, Victoria and Crown Point Bridge – were all toll bridges.
Did you know though that Wellington Bridge is actually two bridges? 
Armley's Benjamin Gott laid the foundation stone for the bridge in 1818 having helped raise the £7,000 it took to build the bridge, including a second smaller structure over the canal.
Originally it was called the Waterloo Bridge and was completed in 1819. It was built by J Rennie and the bridge is an elliptical stone arch of approximately 31m span. Rennie also built Waterloo Bridge in London.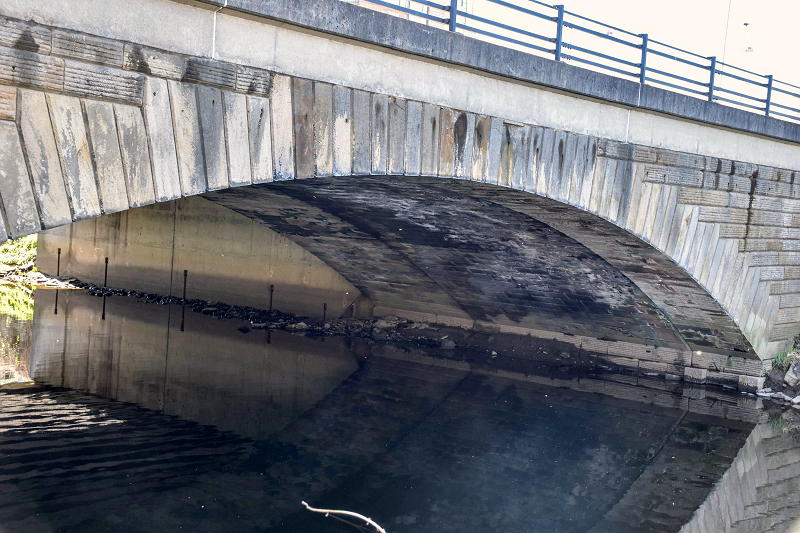 Wellington Bridge was a toll bridge, the rights for some toll bridges would be auctioned off in local pubs. One such pub was the Crown and Anchor in Rodley, where the rights to the toll road in Rodley were auctioned off.
In 1861 the toll collector for Wellington Bridge was a chap called Benjamin Leach, who was born in Armley in 1801. His wife Sarah (1801) helped him out and his two sons also lived with him at the toll house. His eldest child, Thomas (1836), was a house painter employing four men and one boy. His youngest child, Benjamin (1839), was a wood turner.
In 1873 the bridge was widened and around 100 years later in 1970 it was widened again; the original structure has been mostly hidden by the later stonework but some can still be seen.
After hanging onto a fence with one hand and camera in the other trying to take some pics of the bridge I realised I might have a better chance if I asked the staff at Speedy Hire Centre if I could take some pics from their car park.
They were more than helpful and, after explaining why I was wandering around in their car park with a camera, they opened the gate near the riverbank allowing me to get these pics. So thanks for that.
It was interesting to note that the toll house was at the top end of the car park at Speedy Hire Centre, (roughly) next to Wellington Bridge.
Read more of Mark Stevenson's take on West Leeds' history through his weekly Mark's History column here.
Daily West Leeds headlines delivered to your inbox
Please support independent community-led journalism in West Leeds…