I have often wondered why the Bramley Union Workhouse on Green Hill Road in Armley is not called Armley Union Workhouse, writes Mark Stevenson.
The workhouse opened in 1871/2 and it is quite possible that Ann Greaves of Horsforth was working there from its opening.
The 1881 census has Ann (aged 30) down as working at the workhouse as a Domestic Nurse. Ann is still there in 1901 as a Work House Hospital Nurse.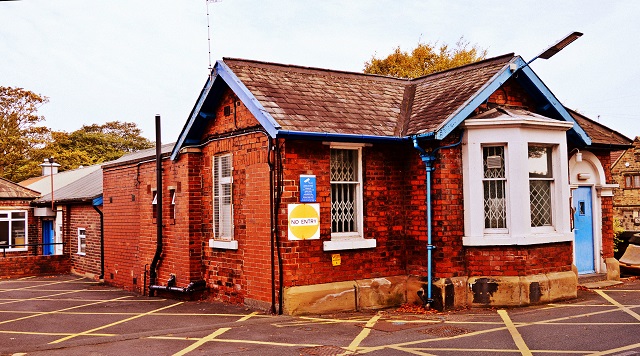 In 1881 148 people were on the census as Residents of Bramley Union Workhouse, eight of whom were the staff.
Below is a list of the residents and staff. Any spelling mistakes are because Victorian handwriting is hard to read.
| | | | | | | |
| --- | --- | --- | --- | --- | --- | --- |
| Forename | Surname | Age | Born | Relation | Birth Place | Occupation |
| Jeffrey | Watson | 39 | 1842 | Master | Northumberland | Master of Workhouse |
| Mary | Watson | 32 | 1849 | Master | Northumberland | Matron of Workhouse |
| Mary Ann | Rodgers | 34 | 1847 | School Mistress | Leeds | School Mistress |
| Emma | Crowther | 30 | 1851 | Cook | Holbeck | Cook Domestic |
| Ann | Greaves | 30 | 1851 | Nurse | Horsforth | Nurse Domestic |
| John | Wilson | 37 | 1844 | Porter | Aberdeen | Porter In Workhouse |
| Elizabeth | Wilson | 27 | 1854 | Portress | | Porter In Workhouse |
| Elizabeth | Wilson | 9 M | 1881 | Daughter | Armley | |
| Mary | Atkinson | 71 | 1810 | Inmate | Armley | |
| Joseph | Thornton | 12 | 1869 | Inmate | Armley | |
| George | Blackburn | 44 | 1837 | Inmate | Armley | Cloth Weaver |
| William | Braithwaite | 45 | 1836 | Inmate | Armley | Cloth Weaver |
| John | Boynton | 74 | 1807 | Inmate | Armley | Carrier |
| Joseph | Burnett | 68 | 1813 | Inmate | Armley | Cloth Weaver |
| William | Clayton | 56 | 1825 | Inmate | Richmond | Farm Labourer |
| Catherine | Edwards | 55 | 1826 | Vagrant | Ireland | Charwoman |
| William | Hucklisby | 70 | 1811 | Inmate | Wortley | Cloth Weaver |
| John | Holt | 77 | 1804 | Inmate | Lancashire | Cloth Weaver |
| John | Holdsworth | 68 | 1813 | Inmate | Wortley | Wheelwright |
| William | Wheater | 89 | 1792 | Inmate | Wortley | Cloth Weaver |
| William | Wray | 42 | 1839 | Inmate | Armley | Labourer Cartman |
| James | Prince | 80 | 1801 | Inmate | Armley | Striker |
| John | Ripley | 87 | 1794 | Inmate | Leeds | Shoemaker |
| George | Rookes | 77 | 1804 | Inmate | Armley | Cloth Dresser |
| John | Secker | 74 | 1807 | Inmate | Dewsbury | Farm Labourer |
| | | | | | | |
| --- | --- | --- | --- | --- | --- | --- |
| | | | | | | |
| Sarah | Stead | 42 | 1839 | Inmate | Wortley | Charwoman |
| Margaret | Strother | 68 | 1813 | Inmate | Leeds | Sewer |
| Hannah | Shaw | 57 | 1824 | Inmate | Cheshire | Hawker |
| Joseph | Sowery | 77 | 1804 | Inmate | Armley | Shoemaker |
| Joseph | Thornton | 12 | 1869 | Inmate | Armley | |
| Susannah | Raper | 52 | 1829 | Inmate | Armley | |
| George | Greaves | 49 | 1832 | Inmate | Armley | Farm Labourer |
| Joseph | Lindell | 52 | 1829 | Inmate | Armley | Carrier |
| William | Reet | 66 | 1815 | Inmate | Ireland | Wool Spinner |
| Joseph | Boynton | 56 | 1825 | Inmate | Armley | Farm Labourer |
| John | Lupton | 50 | 1831 | Inmate | Knaresborough | Farm Labourer |
| Catherine | Edwards | 55 | 1826 | Vagrant | Ireland | Charwoman |
| George | Smith | 52 | 1829 | Inmate | Gildersome | General Labourer |
| James | Connell | 46 | 1835 | Vagrant | Ireland | General Labourer |
| Thomas | Child | 60 | 1821 | Inmate | New Wortley | General Labourer |
| John | White | 43 | 1838 | Vagrant | | |
| Samuel | Trueman | 75 | 1806 | Inmate | Leeds | Nail Maker |
| John | Burrell | 61 | 1820 | Vagrant | Alnwick | Painter |
| Benjamin | Sykes | 75 | 1806 | Inmate | Morton | Cloth Weaver |
| George | Ardley | 16 | 1865 | Vagrant | York | Farm Labourer |
| Thomas | Jefferson | 58 | 1823 | Inmate | Durham | Shoemaker |
| George | Clarke | 32 | 1849 | Vagrant | Stockport | Engine Fitter |
| Mary | Loftus | 1 M | 1881 | Inmate | Mayo | |
| Thomas | Simpson | 39 | 1842 | Vagrant | London | Engine Fitter |
| William | Drake | 75 | 1806 | Inmate | Armley | Clothier |
| | | | | | | |
| --- | --- | --- | --- | --- | --- | --- |
| | | | | | | |
| Thomas | Wilson | 63 | 1818 | Vagrant | Ripon | General Labourer |
| Arthur | Wiseman | 8 | 1873 | Inmate | Lancashire | Scholar |
| James | Relly | 60 | 1821 | Vagrant | Ireland | General Labourer |
| Louisa | Ackroyd | 30 | 1851 | Inmate | Leeds | |
| George | Chatwood | 23 | 1858 | Vagrant | Manchester | General Labourer |
| Nathan | Armitage | 70 | 1811 | Inmate | Bramley | Slubber |
| Thomas | King | 28 | 1853 | Vagrant | Sheffield | General Labourer |
| James | Burchinill | 43 | 1838 | Inmate | Bramley | Cloth Weaver |
| Samuel | Butler | 63 | 1818 | Inmate | Bramley | Cloth Weaver |
| George | Dixon | 45 | 1836 | Inmate | Bramley | Cloth Weaver |
| Mary | Farrer | 76 | 1805 | Inmate | Horsforth | Knotter |
| Ben | Gatehouse | 11 | 1870 | Inmate | Morley | Scholar |
| Elizabeth | Hardcastle | 57 | 1824 | Inmate | Bramley | Cloth Weaver |
| Hannah | Kaye | 35 | 1846 | Inmate | Horsforth | Cloth Weaver |
| Alfred | Kaye | 10 | 1871 | Inmate | Bramley | Scholar |
| William | Laverick | 66 | 1815 | Inmate | York | Farm Labourer |
| Joseph | Pickard | 75 | 1806 | Inmate | Wortley | Cloth Weaver |
| Joseph | Ross | 80 | 1801 | Inmate | Bramley | Cloth Weaver |
| William | Ross | 75 | 1806 | Inmate | Bramley | |
| Alfred | Stead | 13 | 1868 | Inmate | Bramley | |
| Mary | Bearley | 12 | 1869 | Inmate | Bramley | |
| John | Andrews | 73 | 1808 | Inmate | Sussex | Shoemaker |
| Henry | Cooper | 71 | 1810 | Inmate | Dewsbury | Quarryman |
| Sarah | Mirfield | 48 | 1833 | Inmate | Armley | Charwoman |
| Joseph | Barnes | 51 | 1830 | Inmate | Farnley | General Labourer |
| | | | | | | |
| --- | --- | --- | --- | --- | --- | --- |
| | | | | | | |
| Joseph | Jowitt | 12 | 1869 | Inmate | Morley | |
| Samuel | Jowitt | 8 | 1873 | Inmate | Farnley | Scholar |
| Eliza | Kershaw | 47 | 1834 | Inmate | Bowling | General Servant |
| Albert | Higgins | 25 | 1856 | Inmate | Bradford | General Labourer |
| Jonathan | Green | 53 | 1828 | Inmate | Gildersome | Striker |
| Reddick | Jackson | 12 | 1869 | Inmate | Gildersome | |
| Thomas | Tinsdale | 69 | 1812 | Inmate | Hunslet | Farm Labourer |
| Samuel | Marshall | 79 | 1802 | Inmate | Gildersome | Coal Miner |
| Mary | Wade | 44 | 1837 | Inmate | Adwalton | Cloth Weaver |
| William | Harrison | 69 | 1812 | Inmate | Bowling | Coal Miner |
| Mary | Lofthouse | 24 | 1857 | Inmate | Armley | Rag Sorter |
| Mary | Close | 66 | 1815 | Inmate | Blakeley | |
| James | Binns | 42 | 1839 | Inmate | Sale | Cloth Weaver |
| Elizabeth | Paley | 81 | 1800 | Inmate | Yorkshire | Cloth Weaver |
| Sarah | Appleby | 38 | 1843 | Inmate | Armley | |
| Jane | Asquith | 74 | 1807 | Inmate | Ripley | |
| John | Amos | 9 | 1872 | Inmate | Wortley | Scholar |
| Mark | Blackburn | 79 | 1802 | Inmate | Wakefield | Gardener |
| Ann | Davison | 72 | 1809 | Inmate | Low Wortley | Hawker |
| James | Ellis | 63 | 1818 | Inmate | Pudsey | Teazle Setter |
| George | Fairbank | 73 | 1808 | Inmate | Leeds | Teazle Setter |
| Elizabeth | Garnett | 11 | 1870 | Inmate | Farnley | Scholar |
| Elizabeth | Howden | 16 | 1865 | Inmate | Wortley | Scholar |
| Margaret | Emma | 42 | 1839 | Inmate | Wortley | Cloth Weaver |
| Thomas | Longbottom | 80 | 1801 | Inmate | Armley | Cloth Weaver |
| | | | | | | |
| --- | --- | --- | --- | --- | --- | --- |
| Elizabeth | Longbottom | 48 | 1833 | Inmate | Armley | |
| Ann | Lobley | 70 | 1811 | Inmate | Wortley | Cloth Weaver |
| Anthony | Mc Goward | 72 | 1809 | Inmate | Mayo | Mason's Labourer |
| Hodgson | Robinson | 26 | 1855 | Inmate | Wortley | Coal Miner |
| Eunice | Smith | 62 | 1819 | Inmate | Gloucestershire | Charwoman |
| Edwin | Sheldon | 8 | 1873 | Inmate | Armley | Scholar |
| William | White | 9 | 1872 | Inmate | Wortley | Scholar |
| Jonathan | Brooke | 74 | 1807 | Inmate | Batley | Cloth Weaver |
| James | Naylor | 56 | 1825 | Inmate | Bramley | Cloth Weaver |
| Elizabeth | Hick | 18 | 1863 | Inmate | Wakefield | Charwoman |
| Susannah | Stead | 75 | 1806 | Inmate | Adlessay | Charwoman |
| Thomas | Atley | 68 | 1813 | Inmate | Martin | Gardener |
| Thomas | Secker | 63 | 1818 | Inmate | Wortley | Farm Labourer |
| George | Stafford | 58 | 1823 | Inmate | Leeds | Shoemaker |
| Esther | Stafford | 58 | 1823 | Inmate | Cheshire | Cloth Weaver |
| Stephenson | Davison | 65 | 1816 | Inmate | Leeds | Farm Labourer |
| Edward | Kay | 71 | 1810 | Inmate | Essex | MillWright |
| William | Turner | 75 | 1806 | Inmate | Kirk Hammerton | Cloth Dresser |
| John | Barter | 73 | 1808 | Inmate | Norfolk | Mason's Labourer |
| William | Blackburn | 64 | 1817 | Inmate | Sheffield | French Polisher |
| Jane | Grayson | 26 | 1855 | Inmate | Armley | Servant Domestic |
| Hannah | Grayson | 2 | 1879 | Inmate | Garforth | |
| Joseph | Potter | 60 | 1821 | Inmate | Tadcaster | Mason |
| Richard | Squire | 25 | 1856 | Inmate | Leeds | Mason's Labourer |
| John | Tempest | 70 | 1811 | Inmate | Morley | Well Tinker |
| | | | | | | |
| --- | --- | --- | --- | --- | --- | --- |
| Moses | Whittaker | 68 | 1813 | Inmate | Wortley | Cloth Weaver |
| William | Fenton | 62 | 1819 | Inmate | Wakefield | Coal Miner |
| Hannah | Duckett | 23 | 1858 | Inmate | Leeds | Servant |
| John | Wray | 64 | 1817 | Inmate | Rudmonton | Farm Labourer |
| James | Hartley | 62 | 1819 | Inmate | Shropshire | Shoemaker |
| Harry | Smith | 6 | 1875 | Inmate | Manchester | |
| Charlotte | Castle | 21 | 1860 | Inmate | Leeds | Cloth Weaver |
| Elizabeth | Hick | 43 | 1838 | Widow | Aberforth | Charwoman |
| Clara | Watson | 24 | 1857 | Unmarried | Leeds | Servant |
| Ann | Watson | 1 | 1880 | Unmarried | Leeds | |
| Walter | Buckton | 11 | 1870 | Unmarried | Leeds | Scholar |
| May | Keighley | 21 | 1860 | Married | Leeds | Cloth Weaver |
| Emily | Keighley | 2 | 1879 | Married | Leeds | |
| Ann | Avery | 63 | 1818 | Married | Surrey | Hawker |
| Annie | Avery | 19 | 1862 | Unmarried | Surrey | |
| Polly | Hopkinson | 17 | 1864 | Unmarried | Staffordshire | Cloth Weaver |
| Alfred | Ball | 51 | 1830 | Widower | Sussex | Insurance Agent |
| William | Ball | 6 | 1875 | | New Wortley | Scholar |
| Thomas Alfred | Ball | 4 | 1877 | | New Wortley | Scholar |
| Grace Ann | Buckton | 16 | 1865 | Inmate | Leeds | Servant |
| Sarah | Pybus | 79 | 1802 | Inmate | Baldon Moor | Charwoman |
| Albert | Newson | 11 | 1870 | Inmate | | Scholar |
| Elizabeth | Abbott | 7 | 1874 | Inmate | Leeds | Scholar |
Please support independent community led journalism in West Leeds…