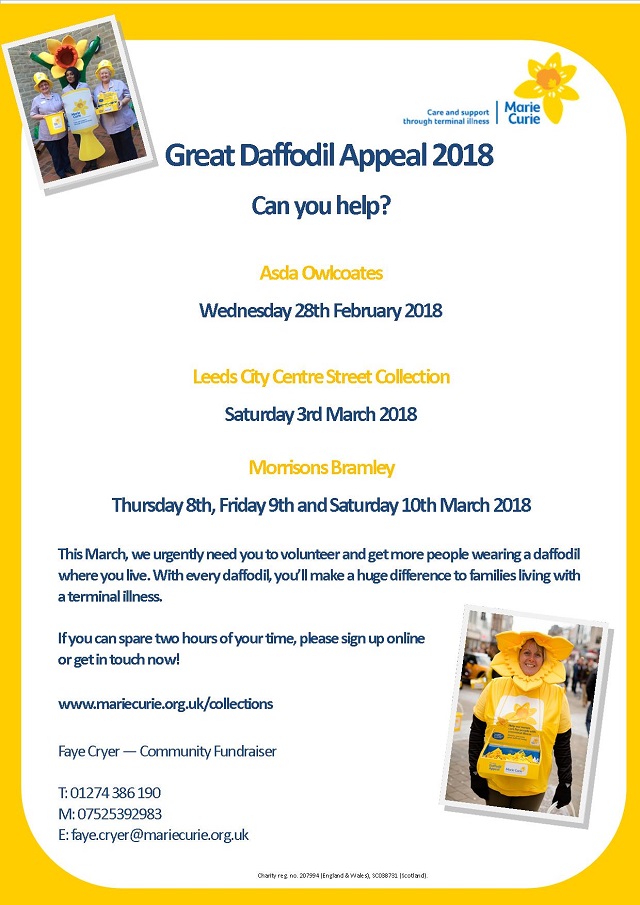 Terminal illness charity Marie Curie is appealing for volunteers to give two hours of their time to hand out its iconic daffodil pins, in return for donations.
The charity is hoping to get more people than ever wearing the daffodil pin during its annual fundraiser; the Great Daffodil Appeal this March.
Marie Curie have been given a collection weekend at Morrisons in Bramley on Thursday 8th, Friday 9th and Saturday 10th March so need as many people as possible to make it a success.
Marie Curie are also looking for volunteers to help out at Asda Owlcotes on Wednesday, 28th February between 12pm and 2pm.
In Leeds, in addition to the Morrisons dates we also have a street collection on Saturday, 3rd March.
Marie Curie Community Fundraiser for Leeds, Faye Cryer, said:
"Volunteering to collect donations in return for daffodil pins is a fun and easy way to get involved in the local community. You can collect with a friend or partner and know that you are helping Marie Curie be there when we are needed most.

"Every daffodil helps us care for more people – this is what makes the Great Daffodil Appeal so important."
Those wishing to volunteer two hours of their time to the Great Daffodil Appeal or to find out more about the appeal, can visit the website or call local community fundraiser Faye on 0752 5392983 or email faye.cryer@mariecurie.org.uk.