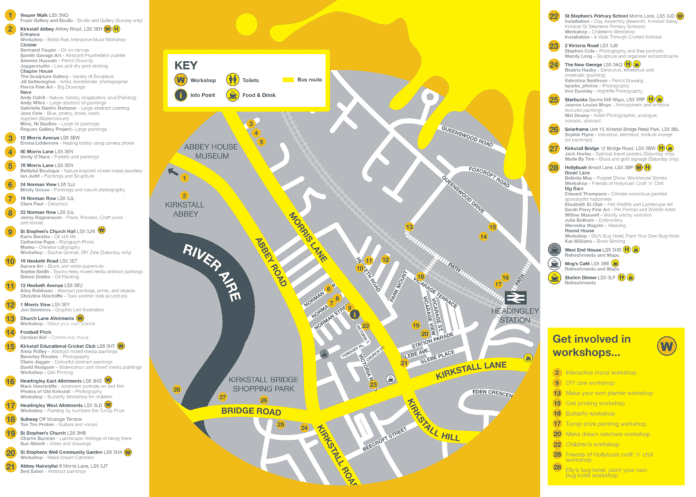 By Jim Corah
Kirkstall homes and businesses will be welcoming visitors during the weekend of Saturday 15 to Sunday 16 July 2023 as part of Kirkstall Art Trail, a celebration of art in the community.
KAT2023 will feature a weekend-long series of free exhibitions, installations, and interactive activities for everyone.
Earlier this week Kirkstall Art Trail launched the map to guide visitors around 27 venues hosting sixty plus artists and workshops. The map is available to download from the KAT website and free copies will be available during the weekend.
A wide variety of art styles and techniques will be on display, featuring KAT regulars to newcomers. This year there will be A Clay Assembly in St Stephen's Primary School, made by children from primary schools across Kirkstall, as well as a community murial being painted overlooking the football pitches.
Organisers Mandy Long, Harriett Richardson and Jim Corah have made KAT2023 as interactive as possible, with many workshops taking place. Artists will be on hand at venues to talk about their artwork. The hope is to inspire visitors get involved and participate in art as a legacy of Kirkstall Art Trail.
Venues for this year's art trail include Kirkstall Abbey, St Stephen's Church and Church Hall, Kirkstall Educational Cricket Club, The New George, Starbucks, Solarframe, Kirkstall Bridge, and Hollybush TCV, along with Kirkstall residents' homes.
Headingley East Allotments, Headingley West Allotments, and Church Lane Allotments are hosts, along with St Stephen's Well Community Garden.
Kirkstall Art Trail takes place on Saturday 15 and Sunday 16 July 2023, between 11am and 5pm on both days. There will be an information point on Norman Street, along with refreshment points across Kirkstall.
Visitors are encouraged to walk the trail were possible, and there are many bus routes to Kirkstall. The event is free though visitors can support Kirkstall Art Trail via Justgiving.
Find out more information by visiting the Kirkstall Art Trail website.
Connect with Kirkstall Art Trail on Instagram, Twitter, or Facebook – and by using #KAT2023. 
Sponsored content