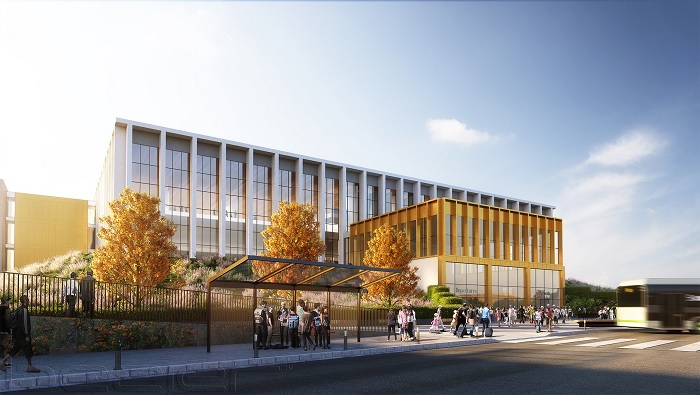 Leeds Bradford Airport has today withdrawn its controversial £150 million planning application for a replacement terminal building.
Airport chiefs are blaming 'excessive delays' and the decision to call in plans by the Secretary of State for Levelling Up, Housing and Communities after plans for a new three-storey building were approved by Leeds City Council on March 22, 2021.
The expansion plans for the airport have caused controversy since they were first outlined in 2020, with opposition including MPs and environmental campaigners.
With a seven-figure investment in the scheme so far, airport bosses today said they are not prepared to commit a further uncapped sum over an indefinite timeframe into a public inquiry process.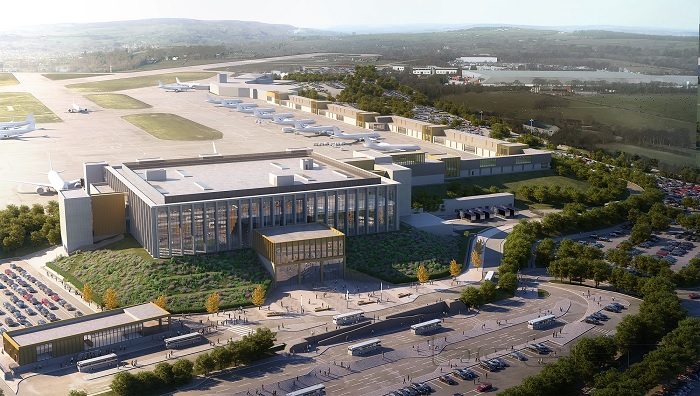 Vincent Hodder, CEO of Leeds Bradford Airport, said the airport will instead turn its attention to building an extension to the existing terminal, which was previously approved by Leeds City Council in January 2019.
He said the proposals already granted permission to increase passenger numbers from four million a year to seven million a year.
Mr Hodder claimed the replacement terminal plans, which would have delivered a BREEAM excellent rated terminal building, would meet demand already approved under the 2019 consent, but in a more sustainable way. He added:
"It is with regret that we have made the decision to withdraw LBA's application for the development of a new replacement terminal.

"As the travel and aviation industry continues to recover from the impacts of the pandemic, LBA needs to be able to respond to rapidly increasing demand within the next few years.

"I would like to thank everyone who has supported us in the planning process, from the general public to the business community and councils across Yorkshire. Whilst this is a setback for our airport and region, we remain committed to investing in LBA to be an outstanding, decarbonised, modern airport for the future.

"My team and I are optimistic about the recovery from the pandemic and about the future of Leeds Bradford Airport."
Speaking at a Yorkshire business event in Parliament, Mr Hodder this week said that the message being given to passengers in Yorkshire by the House of Commons was to "go to Manchester" rather than travel from Yorkshire.
The airport said it will release more details of the extension scheme in the coming months.
The decision was welcomed by environmental campaigners. Chris Foren, chair of GALBA, said:
"This is a victory for our climate and our communities – we are delighted that LBA has acknowledged defeat. It means that LBA cannot extend daytime flying hours nor remove night time flying controls. As they said in their own planning application, this means they don't have the capacity to increase passenger numbers above 5 million a year.

"Make no mistake, this victory is down to the thousands of people who took action, donated funds and never gave up hope that we CAN make the right decisions today to build a better tomorrow. GALBA would like to say a massive 'thank you' to everyone who has backed our campaign."
The response has been mixed on social media.
Leeds North West MP Alex Sobel welcomed the withdrawal. He said: "I'm pleased the airport is not proceeding with their application at public inquiry. From the start this was always about increasing passenger numbers and carbon emissions, not getting a new building. I hope the airport will enter discussions about reducing aviation emissions now."
Another commenter said: "Environmental protesters get exactly what they were warned about… They've blocked a new energy efficient terminal and as predicted the airport will still expand via building the extension to existing building."
Another added: "It's been treated as a referendum on air travel. To be fair I don't blame the environmentalists, their heart is in the right place, no matter how misguided. It's Whitehall putting its nose in to stuff that doesn't concern it. LCC signed it off. They know best."
Bramley-based environmentalist Paul Chatterton said: "So new terminal plan scrapped, but don't get distracted, The task ahead remains the same. To slow down the growth of passenger numbers. That's the only route to a safe future. Well done @galba_action."
The LBA Support Group, which was in favour of the new terminal, added: "Absolute hammer blow for region's economy and future. 'Levelling Up' once again exposed. @LBIAirport will go ahead building the terminal extension for which planning was approved by Leeds council in 2019, those plans also allow the airport to grow to 7 million passengers a year."
Leeds Bradford Airport plans – the story so far
Plans for the £150m Leeds Bradford Airport rebuild first emerged in 2019, with more detailed plans being published the following year.
The rebuild, plans stated, would include a new "state of the art" terminal, as well as new parking and access facilities, and had a target of 2023 for opening. LBA hoped the number of annual flights could increase from four million to seven million in the coming decades.
Plans were also included to modify flight time controls, and to extend the the daytime flight period, with a likely increase from five to 17 flights between 6pm and 7am.
The application claimed the current terminal – parts of which date back to the 1960s – is 'dated' and 'inefficient', warning it could lose passengers to nearby Manchester Airport unless the improvements are approved.
But the plans proved controversial, as many objectors, including climate scientists, transport experts and residents' groups, warned such an expansion would contribute towards catastrophic climate change, as well as unbearable noise pollution for those living nearby.
During a pre-application meeting in January 2020, in which councillors were able to ask questions about early forms of the plans, protesters staged a 'die-in', during which they fell to the floor and lying still until the meeting was suspended.
Despite this, a full planning application was eventually submitted to the council.
Following a mammoth eight-hour debate on Leeds City Council's city plans panel on February, 11, 2021, councillors voted by nine votes to five to agree to the expansion plans in principle.
Campaigners, as well as both Labour and Tory MPs, supported calls for a public inquiry.
On April 6, 2021, the then-communities secretary Robert Jenrick postponed making a decision on this request, giving no timescale, and leaving the future of the plans in limbo.