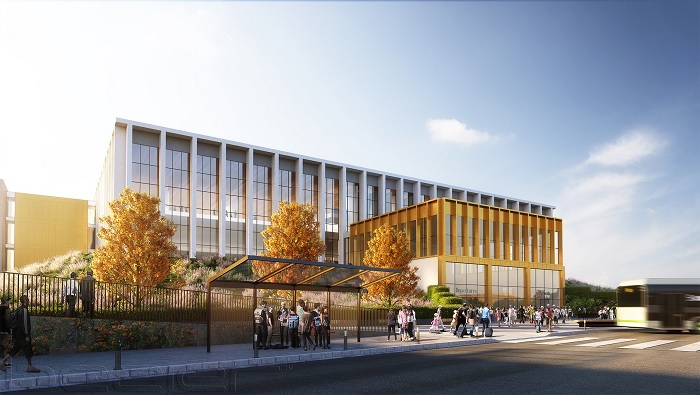 The MP for Northwest Leeds has criticised plans to revamp Leeds Bradford Airport with a new £150m terminal, writes Richard Beecham.
Alex Sobel (Labour) gave his opinions on the issue in a video question-and-answer session on his Facebook page at the weekend.
He claimed the planned increase in flights would not be viable in a post-Covid-19 economy, and said many locals also had concerns around the prospect of extra flights early in the morning and late at night.
He also called for an extension to the consultation period, adding that no decision should be made on the airport until at least six weeks after the lockdown is lifted.
It follows the announcement earlier this month that the airport had officially submitted its plans for the rebuilding of the terminal to Leeds City Council's planning department. Mr Sobel said:
"I'll be putting an objection forward to the new building. My overall objection is that the building in and of itself is more efficient and will produce fewer emissions to the current buildings, and I have no in-principle objections to the building of a new terminal.

"What I have an objection to is that the underlying business model to pay for the terminal means an increase in flights. In the current context of coronavirus and what that has done to aviation, that doesn't make a lot of sense. What we will see is a drop in airline numbers and capacity.

"We have seen quite big lay-offs of people by airlines – the outlook for airlines doesn't look great.

"It has been shown now that people can have meetings via Zoom or some sort of audio visual conferencing software, without going on short haul flights at great cost to their company.

"This new model of working for people who frequently use aviation will change. If you buy the right equipment, a lot of the reasons people usually fly for business will not exist.

"People can stay at home or in their office. It also helps with carbon reduction.

"Paying for the building is predicated on an increase in aviation numbers, ignoring that that is going to be impossible in future, because of how people's habits are going to change.

"There are objections around people who live near it and around it, the window of flights will increase, which I don't agree with either – we don't want flights earlier in the morning or later at night than they already are."
He went on to advise those living near the airport to contact Leeds City Council to let them know their concerns. He added:
"You should make your objections based on the law and not your feelings. Because of the lockdown, we can't have proper consultation at this time.

"The airport isn't putting on virtual events online that might mitigate that, so I've asked for this to be extended to six weeks after the end of lockdown."
Plans submitted earlier this month by Leeds Bradford Airport claimed a 'state of the art' terminal would include three main floors with improved vehicle access. It would also be closer to a proposed parkway rail station, announced by Leeds City Council last year.
The airport hopes for work to start on construction of the site by the end of this year, and for the new terminal to be up and running by 2023.
The application adds the current terminal is 'dated' and 'inefficient' and that the airport could lose passengers to nearby Manchester Airport unless the improvements are approved.
A spokesperson for Leeds Bradford Airport said:
"We always value feedback from members of the public, interested groups and stakeholders, and we have consulted extensively both with members of the public and environmental experts to ensure that our plans create an efficient replacement terminal for the future.

"It is important to note that this consultation has been ongoing since January, giving interested parties many opportunities to engage with, ask questions and provide feedback on our plans and we thank the thousands of people across the region that have done so, and continue to do so, as we make our way through the judicial process.

"We are pleased that there is understanding about the rationale for why a replacement terminal is so important. Our operational challenges will continue to be an issue regardless of passenger numbers, making it difficult for us to respond to passenger needs in a modern world, including accessibility, reduced queuing and better facilities to create an overall better customer experience.

"These proposals are about the long-term vision for the airport, backed by private funding. We cannot deny that infrastructure is a long term investment that generates long-term prosperity, regional economic growth, essential connectivity for businesses and jobs for the future, and we are confident that air travel will continue to form an essential part of our region's infrastructure in the future."