A community-led farm, nestling off the busy A65 and at the edge of the city centre, has become the city's unlikeliest new wedding venue.
Newly-weds Hayley and Nick Marsden tied the knot in a ceremony at Kirkstall Valley Farm, which was – until a few years ago – an unloved and neglected piece of farmland.
Since the Kirkstall Valley Development Trust (KVDT) took over the land in late 2019, the area has become a thriving haven of community agricultural activity, produce boxes and planting. The farm has become an oasis – a tranquil, natural and almost untouched area nestling almost unseen into the hustle and bustle of inner city Leeds.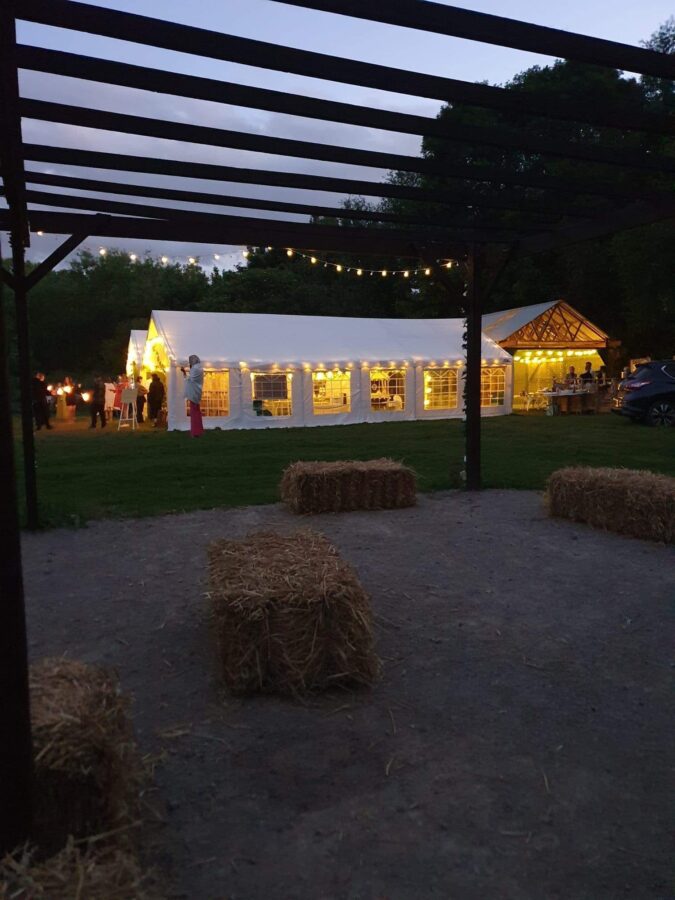 Hayley and Nick, who are both 30 and live in Middleton, were looking for a place to hold their dream day but couldn't find anything personal enough to them – until they stumbled on the farm via a friend.
Speaking to West Leeds Dispatch, Hayley said:
"We knew what we wanted but we couldn't find it – we wanted something that meant something to us, that was different, that was a little 'do it yourself', but was intimate and peaceful and secluded. We wanted something that was about us, somewhere where we could bring our dogs – and we couldn't find it anywhere else.

"I knew Lauren, who is the daughter of Adele Rae from the Kirkstall Valley Development Trust, and she suggested the farm – and the rest is history.

"When we went down for the first time, it was a muddy field – but we could see the potential. It's just so tranquil and relaxing – you could be miles away from anywhere. We could see the woodland and the trees and we thought it was perfect. Really beautiful.

"It all turned out really well. It was our special day with friends and family, it was relaxed and very different – and we were able to shape it to how we wanted it."
The happy couple had two marquees for their guests, a fire pit and a large pergola area with lots of flowers, sourced from the site itself. There was also a mud kitchen – and reclaimed chairs and furniture.
"I just want to say a huge thank you to Adele and the entire KVDT team for all the preparation, hard work and support they put into making our special day perfect. The team really did go above and beyond. From hand crafting tables, redesigning furniture and even creating an entire afternoon tea set up! Numerous guests described it as a "hidden gem" and they are totally right! I can't thank them enough," Hayley said.
Kirkstall Valley Farm is the community farm of Kirkstall Valley Development Trust (KVDT). Adele Rae, from KVDT, hopes that the hard work surrounding the wedding will lead to more events at the farm. She sad:
"It has been a hard six months to put things into place. We are, at the end of the day, volunteers who run the farm for the benefit of the community and because we love it. We really did move mountains to make their big day what they wanted.

"We got the chairs from Abbey House Museum and managed to transform them into something a bit more rustic. The bar area and tables were made up scaffolding boards which we did up to look really beautiful.

"The wedding had such a relaxed and tranquil feel and I'm pleased they enjoyed it so much – we got a lot of compliments from the guests saying how beautiful it all was. It fits in with our ethos or recycling and bringing people together and we'd love to do more – and raise vital funds for the farm at the same time."
Adele said she hoped to run more weddings, community events, socials, celebrations and even wakes at the farm. For more details, e-mail her on adele.rae@kvdt.org.uk.
Part of the Community Supported Agriculture network (CSA), the farm supplies weekly fresh veg to members of the local community through a Harvest Share Membership Scheme, supporting the maintenance of the land and offers opportunities for people to get involved and learn new skills.
Sponsored content