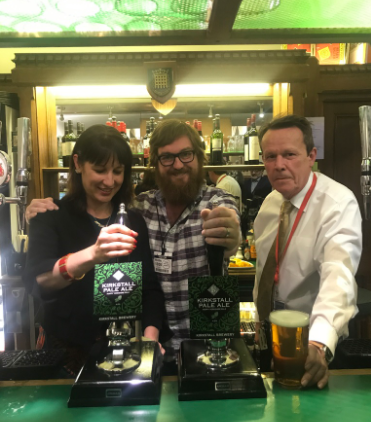 West Leeds brewers Kirkstall Brewery were in Parliament this week as they celebrated having their Kirkstall Pale beer on tap in Strangers Bar.
The beer will be served as the 'guest ale' in the famous Westminster watering hole for the week for members of the public and MPs to enjoy.
Brewery owner John Kelly joined Leeds West MP Rachel Reeves and other parliamentarians for a celebratory drink on Monday evening.
The Brewery tweeted:
"A special evening for us tonight. We should have Brexit sorted before the cheese course."
Ms Reeves, who arranged for the beer to feature as this week's guest ale, said:
"It was brilliant to raise a glass to Kirkstall Brewery in Strangers Bar and I was thrilled to be able to welcome their team to Westminster.

"Kirkstall Brewery are an excellent local business who have given a lot back to the community in Leeds West.

"The beer is already hugely popular in Leeds and it now seems to be a favourite in Westminster too. I wouldn't be surprised if the bar ordered more!"
Kirkstall Pale is a 4.0% golden session ale. The brewery describe it as having "fresh malt and hop aroma, leading to a satisfying bitter finish".
Based on Kirkstall Road, Kirkstall Brewery own three pubs in Leeds; The Bridge Inn, The Cardigan Arms and The Sparrow. They are also in the process of opening a new site in Otley.
___________
While you're here…
Producing your daily dose of West Leeds Dispatch comes at a cost!
There's the hosting of the website you're reading now, running our popular e-mail newsletter, membership of independent press regulator Impress, attending summer events, paying for equipment etc etc.
We need at least £200 a month just to break even – that's money currently coming out of the pockets of dedicated volunteers who are passionate about what's happening in our communities, connecting you with local groups and organisations as well as holding decision-makers to account and championing local issues.
And all that's BEFORE we even think about paying something for people's time – for instance, our editor puts in more than 24 hours a week in his 'spare' time to ensure The Dispatch publishes daily.
To put it bluntly, after nearly four years of daily publishing, we are not sustainable!
And we need YOUR help to continue …
For the cost of less than a couple of cups of coffee you can help support local community news and continue to give our communities a voice by taking out a subscription for just £4 per month (that's just a pound a week).
As a thanks you'll get your name on a roll of honour on our website. More importantly you will be enabling us to keep bringing you the news that matters about your neighbourhood.
Achieving a bedrock of supporters will give us a firm financial footing and help us plan for the future.
Supporting us couldn't be easier…
Just follow this link.
or set up a standing order with your bank:
Contact us on Paywestleedsdispatch@gmail.com if you'd like to do this.
Over to you …