Kirkstall in Bloom's June session was mostly about thanks and gratitude, writes James Corah.
Looking ahead to the next few weeks the committee knew there were many things to do, and on Sunday we took another step towards bringing about our projects.
We worked on three sites, the main Drink and Be Grateful Fountain Garden, the Cenotaph, and outside the Leisure Centre.
Our tasks were mainly tending and planting, though this is some of the best work you can do in a garden. Making it look marvellous.
You can see by the videos, it is starting to look 'right good' for summer:
Drink and Be Grateful Fountain Garden
Cenotaph
Leisure Centre
Volunteers and Support
This weekend we had new volunteers and helpers, and I'd like to thank everyone, Sam, Hannah, Becky, Mandy, Paul, Chris, and Shelia for the effort they put in. Volunteering in a community garden is hard work made fun with you all.
Gratitude also goes to the members of the public who stop and chat with our volunteers. It might not seem like much, though we are encouraged when you say nice things about our work.
During the weekend there has been particularly helpful support from the Kirkstall Bridge Retail Park. This is part of an ongoing support and we really enjoy working with them. Our activities have also been supported by the Community Committee.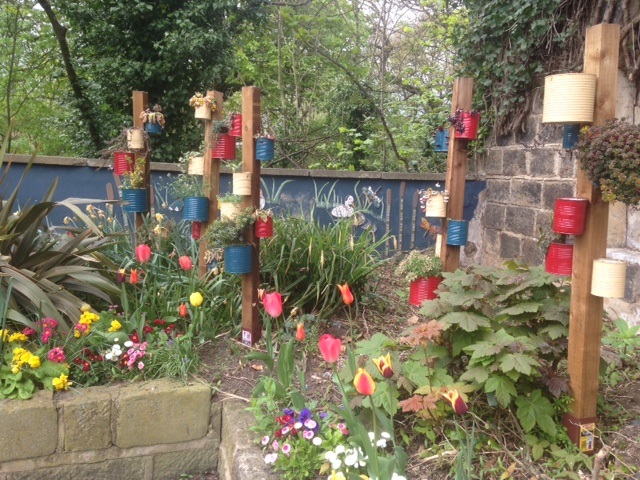 Looking ahead
Between now and Saturday 8 July (Kirkstall Festival) we will be splitting our time between getting ready for our visit from Yorkshire in Bloom and our activities at the Kirkstall Art Trail (in the Abbey on Saturday 15 July).
Near the Leisure Centre and around the Drink and Be Grateful Fountain Garden we've got some weeding to do. Whenever we run a session one of the first things we do is go through which plants we want volunteers removing.
Volunteering is a great learning experience where we come together to share knowledge.
Volunteers make community events, and we'd encourage everyone to volunteer. Volunteering helps bring people together, and it a lot of fun. Gardening might not be your thing, though there's plenty of opportunities.
For the Festival Kirkstall in Bloom have prepared "finders keepers" cards for visitors to find. Finding one of these might mean blooming marvellous prize.
Finding us at Kirkstall Art Trail will mean you will be able to help paint decorations for our garden sites. Name a pebble and when you visit later on in the year find yourself among our oxalis, lavender, and bulbs.
Looking back
A few weeks ago I was on BBC Radio Leeds's Sunday Gardening with Tim Crowther with Sue Wood from Yorkshire in Bloom.
I discussed our preparations for our judging as well as giving out Kirkstall in Bloom badges. There will be badges available when you come and see us at Kirkstall Art Trail.