Spring is here – and with it the fantastic joys of new flowers, writes James Corah.
For Kirkstall in Bloom it signifies the coming of our summer preparation; after a long winter we really look forward to it.
Our preparations start in January, mapping out the monthly sessions for the year ahead. With two main planting sessions, spring for summer and autumn for winter plants, and taking part in Yorkshire in Bloom's competition, there's a lot of planning done by our committee.
There's been change in our committee, with members taking on new roles in the community and a long-standing member leaving for gardens new (thanks for all the help, Sam, you were awesome).
These changes have meant Kirkstall in Bloom have had to think about attracting new volunteers. We like the work we do, we get amazing comments from out community, though we'd like more help.
We invite you to come along at 10.30am on Sunday 29th April 2018 to see what we're doing, what you can do to help, and how you can bring about making Kirkstall even more blooming marvellous.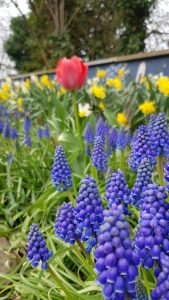 Volunteering with Kirkstall in Bloom is fun. It's muddy sometimes, though not arduous work, and there is something unexplainable about seeing the Drink and Be Grateful Fountain Garden having weeded it.
Kirkstall in Bloom needs help; we will keep going though. With more volunteers we can keep achieving more.
Thieves strike
Having just called out for more volunteers, I turn to one of the frustrations of looking after a community garden.
Two plants were taken from one of our beds outside Kirkstall Leisure Centre. This is a new bed for us and we've been working hard on making it a good counterpoint to the Drink and Be Grateful Fountain Garden. These two plants formed part of a centre piece in the bed.
The plants had a monetary value and a value for volunteer time. In total about four volunteer hours went into planning and sourcing the plants, with another six for collecting and planting.
These two plants join the twenty-odd that have been taken from our community garden. It is incredibly hard to keep replanting these. Whoever takes plants from a community garden is stealing from the community, they are stealing from themselves. I can't really get my thoughts around why anyone would do that.
Usually I end these articles telling every one to keep awesome and imploring them get involved with Kirkstall in Bloom.
I will add, to paraphrase C4's The Last Leg, if you are thinking of taking one our plants, 'don't be an invasive plant'.