A not-for-profit creative arts studio in Kirkstall Road is set to reopen after being devastated by the Boxing Day floods.
Aire Place Studios was one of the many buildings flooded when the River Aire broke its banks on Boxing Day, leaving devastation in its wake.
Paul Lewis and Sarah Francis had planned to open the doors of their studio in February after 12 months of hard work and self-funding, fuelled by the dream of a creative community space for all.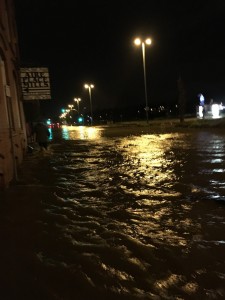 The floods left significant damage to both the studio itself, as well as materials they had set aside to complete the rest of the project.
Thanks to a lot of hard work and the help of a crowdfunding campaign which raised over £1,200, Aire Place studios is set to open tomorrow at a grand post flood opening.
Paul said the past four momnths had been a lot of hard worked – and thanked everyone who had helped get the studio back up and running. He added:
"After a lot of hard work, a flood and more hard work, Aire Place Studios will be open to the public. Come and look around, grab a drink or two, maybe some cake from our PAYF Cafe.

"We put so much work in all the detail of the building – I'm not going to give too much away. Come and see!"
The evening includes Penny Idol$, which will kick-start Aire Place Studio's new exhibition programme.
Co-ordinated by HOARD curator Sarah Francis, Aire Place Studios aims to challenge the idea of the 'Exhibition Space' by allowing artists and collectives a month long exhibition in which to experiment and allow their work to evolve, in front of an audience.
Sheesh Mahal
Meanwhile, Sheesh Mahal restaurant owner Azram Chaudhry announced this week that work had started in earnest to get the Kirkstall Road eaterie re-opened again.
Mr Chaudhry said the process since the floods more than 100 days ago had been a slow one, and that the refurbishment meant 'taking everything back to brick'.
He said he was 'overwhelmed' by the support he had received and hoped the restaurant would be open again soon.
Dearest Friend.
I am glad to say that repair work on Sheesh mahal has started today at 7am.
It has taken three… https://t.co/fS4WLjM9OF

— Sheesh Mahal Leeds (@sheeshmahallds) April 5, 2016