There have been a number of developments over the New Year Period in the aftermath of the Boxing Day floods in Leeds. Here's a round-up of seven of the latest developments in the big Kirkstall clean-up over the past few days.
1. People are ACE!
Hundreds of people have volunteered their time and rolled up their sleeves to get mucky and clean up since the Boxing Day floods. It's impossible to name everyone involved. Heroes all, but special mention must be made of Phil Marken and Open Source Arts. They opened the wonderful arts space on 21st December – five days later it was flooded.
But instead of letting this defeat them and just worrying about their own situation Phil and the team decided to clear it out and then open up the space as a volunteer base to support the flood cleanup effort. It is from here that calls have gone out across the country to bring help to Kirkstall. This is where kind hearted strangers congregate, waiting to go out on volunteering missions. It's the control room for the Kirkstall rallying cry.
The clean up is still continuing today. If you'd like to volunteer please drop in anytime after 10am to Open Source Arts, 143 Kirkstall Rd, opposite Yorkshire TV. People would love to see you.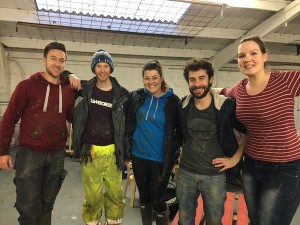 2. Volunteers came from far and wide
This weekend volunteers Dean and Tom and Steve came all the way from Isle of Wight and Goring By The Sea to help out up with some makeshift flood defences off Kirkstall Road … Amazing spirit! It's understood around 50 volunteers are set to travel up from London on Saturday, 9th January, to help – and four volunteers have said they will come from Barnsley tomorrow to pitch in.
And let's not forget a gentleman called Ian Astbury, who took it all to another level…
Ian works lives in Cannock, Staffordshire. He saw the floods on the telly and social media and wanted to do something to help. So he started an appeal, asking for donations. Using his house as a drop off point his friends and work colleagues donated to his appeal. His employers, Arriva, have even donated the fuel for him to make the journey to Kirkstall. His house quickly got filled and the people carrier he intended to bring turned into a seven and a half-tonne truck!
Ian had been working as a bus driver all week. He finished work early in the hours of New Year's Day morning. At 11.30am the same day he arrived in Kirkstall and it took eight volunteers over an hour to unload the truck. What a legend!
Friends from the Grand Mosque helping at #Kirkstall #leedsfloods @asgharlab @lisamulherin @johnillo pic.twitter.com/GrFHBnLBGx

— Alison Lowe (@alison4labour) December 29, 2015
3. People can be shits
The Cardigan Arms was looted. Enough said.
People of Kirkstall, the looters were out in force last night, stay vigilant and safe #Kirkstall #kirkstallcleanup #kirkstallfloods

— woodrup cycles (@woodrupcycles) December 29, 2015
4. Rodley Nature Reserve is cleaned up!
Volunteers came out in force over the weekend – so many volunteers that extra clean-up days at the Reserve, which bore the brunt of the flooding, have been cancelled.
YOU LOT ARE AMAZING! Over 50 people today inc. from @TCVhollybush – all cleaned up & we'll be open 9am on Wednesday. Rebuilding starts soon!

— RodleyNatureReserve (@RodleyNR) January 3, 2016
Big big thanks to all the clean up vollies @RodleyNR – job done by 2pm today – open to public again 9am Wednesday Thanks again

— David Nesham (@rnrnesh) January 3, 2016
5. Firefighters help Chinese Christian Church
The 30 or so firefighters that helped came from as far away as Devon….
About 30 firefighters from across the UK with @teamkirkstall clearing the Chinese Christian Church – media interest? pic.twitter.com/jgrI5xfvL5

— Emma Bearman (@EmmaMBearman) January 2, 2016
6. Jeremy Corbyn came to visit
#teamkirkstall volunteers meet @jeremycorbyn pic.twitter.com/CWoG4pM9i6

— James Lewis (@JamesLewisLab) December 31, 2015
7. Council leader backs calls for Kirkstall Rd flood defences
They were planned right up until 2011 – is it time the scheme for flood defences in Kirkstall was reinstated? Council leader Judith Blake thinks so.