The 38th Kirkstall Festival returns on Saturday, 14th July 2018 – and this year's theme is Vikings in Kirkstall, writes JIM CORAH.
There's going to be real-life Vikings camping on the festival site, demonstrating their way of life. The festival continues with its usual blend of performances, activities, stalls, caterers, and more.
Kirkstall Festival is a family day out, a chance to meet up with friends, listen to some top-quality entertainment and canoe in the Aire. Battle of the Bands returns. The dog show returns. Birds of Prey return. Phoenix Concert Band and the City of Leeds Pipe Band return.
Also on the day will be the fairground, circus workshops, local community organisations (including a West Leeds Dispatch stall!) and so much more.
There's more than 160 stalls and caterers, the marvellous tea dance tent will provide the summer spirits and plenty of tea.
Our parade will promenade to the Main Arena by the Beer Tent, and we welcome regulars like Bassa Bassa, the Suitcase Circus, the Youth Jazz Rock Orchestra, and Mutton Chops.
Headliners Northern Vinyl will bring the Festival to a close with choice covers from across the decades, Sky Fallers will kick the day off. If you're fancying something a little different, Dronechestra will make unique use of the Nave.
This year there will also be a special performance by Sam Airey and Hayley Gaftarnick during the evening of Friday 13th July 2018 in the Abbey Cloisters. This will see sensational Sam perform with strings and Festival regular Hayley as the support act with her fantastic voice.
Kirkstall Festival is a big party, a grand get together, a chance to meet friends, an opportunity to entertain the whole family.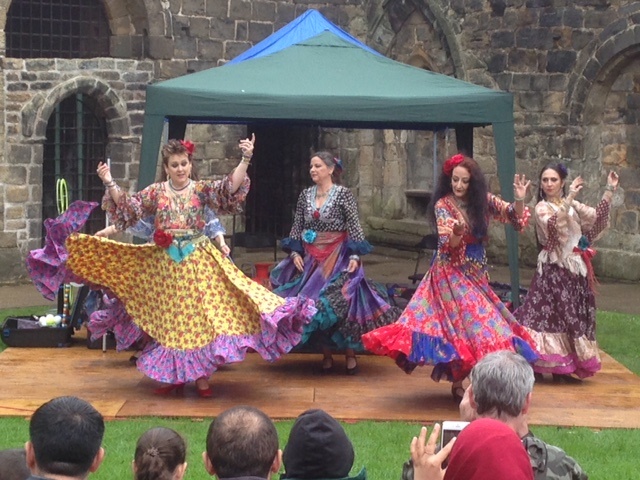 Kirkstall Abbey plays host to the Festival, accessible by public transport (buses 33, 38, 49, 60, 91, 508, 757, Headingley and Kirkstall Forge railway stations are nearby) and there is a car park.
The festival is run and organised by volunteers, supported from sales of our £2 programme, our magnificient sponsors and the Inner West Leeds Wellbeing fund.
This is the 38th Kirkstall Festival and the 40th year of the Kirkstall Valley Community Association. Some volunteers have been with the Festival since the beginning, every year new volunteers are welcomed.
In 2017 25,000 visitors attended Kirkstall Festival, the record being over 27,000 in 2015 over the six hours of the Festival.
Every year the Festival programme cover is designed by school children from Kirkstall.
The organising committee is made up of volunteers from across the community, giving time to welcome everyone to our party.