Bookworms will this week have a new place to while away the hours with the introduction of a reading bench at Kirkstall Abbey.
Kirkstall councillor Lucinda Yeadon came across the book bench or "book nook" while on holiday in Switzerland and wanted to try it here in Leeds.
The benches are located in public places and open up to reveal a mini library so people can sit down in a relaxing location and lose themselves in a good book.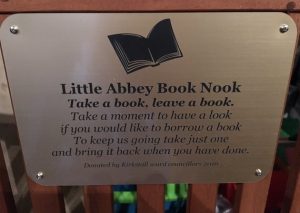 The benches are fixed to the ground and the books are held within a waterproof container to stop the good old British weather ruining them.
Councillor Yeadon said the hope is that people start to swap books, bringing ones they have read and leaving them in the bench for others to enjoy.
A launch event is taking place this Wednesday at 1pm, with author Daniel Ingram Brown, author of The Firebird Chronicles, joining local school children in the grounds of Kirkstall Abbey to help inaugurate the book bench.
Cllr Yeadon (Labour, Kirkstall) said:
"I saw these on holiday and thought they were absolutely fantastic and was determined to try them out here in Kirkstall. It's great to see it in place.

"It is such a simple idea that can bring hours of pleasure to people who want to go somewhere quiet to relax. Hopefully it will also encourage families to read together as the book bench and a story could become part of a perfect day out at the Abbey.

"We really want to encourage people to contribute books they have already read so that others can enjoy them as much as they did."
Cllr Yeadon, along with her ward colleagues John Illingworth and Fiona Venner, have donated some of their MICE money to buy the first bench and books. MICE is a scheme through which councillors can propose support and funding for local projects and miscellaneous works and improvements in their respective wards.