A medieval book has been returned to Kirkstall Abbey where it was first studied by monks more than 500 years ago.
Known as the Kirkstall Missal, the rare book was printed in Paris in 1516 and is believed to have once belonged to the monks of Kirkstall Abbey. Remarkably, it still contains notes and passages they delicately wrote by hand.
After centuries of being handed down through generations of two prominent Leeds families, the book, which features detailed instructions and woodcut illustrations on the dos and don'ts of public worship, was acquired at auction by Leeds Central Library in 1901 for just £5.
This week, librarians took the Kirkstall Missal back to the abbey where, thanks to a detailed research project, visitors will be able to discover more about it and borrow a digital copy. The book itself will now be going on display at Leeds Central Library.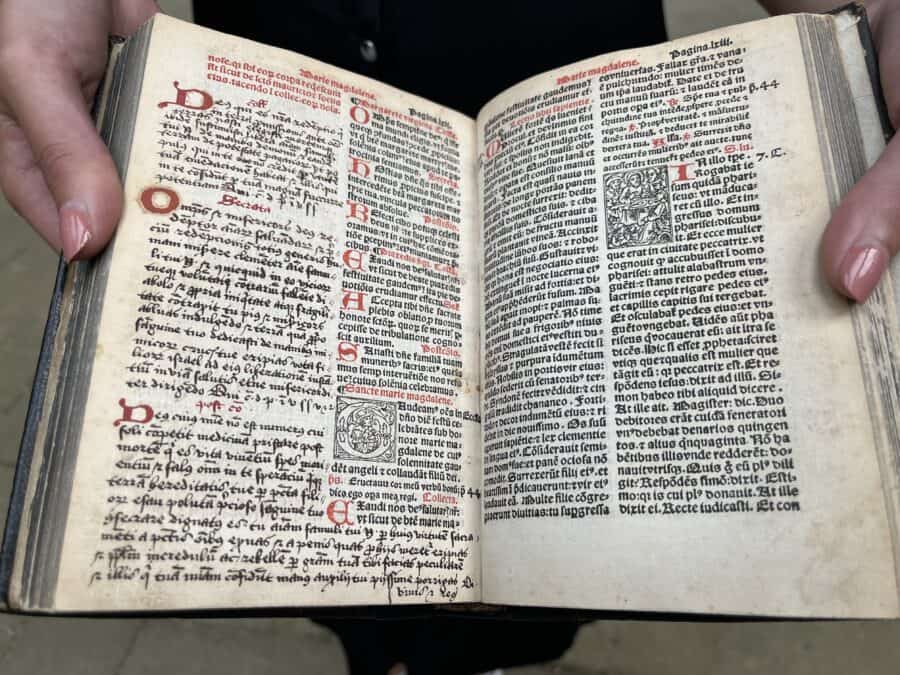 Rhian Isaac, Leeds Central Library's special collections librarian, said: "This remarkable text has been part of the city's history for more than half a millennium, outlasting countless events, places and people which have come and gone while it has remained almost perfectly preserved.
"It's humbling to think that today, we are looking at the very same words which were studied by monks here in Leeds all those centuries ago and which we've now returned to the abbey where the Missal was once so important to those who lived here.
"It's also exciting that visitors to the abbey and the library will have the chance to discover more about this unique piece of the city's story and to connect with the abbey and its history in a new way."
The Missal – full name Missale ad usum Cistercienci – was rediscovered by Philip Wilde, library assistant at Leeds Central Library, while exploring the library stacks, sparking a mission to find out more.
He discovered that the Missal was approved for the use of the Cistercian order by their General Chapter in Citeaux, France.
The Leeds book is one of three copies which were known to have been in the north of England before the Dissolution of the Monasteries which saw Henry VIII tear down many religious institutions and seize much of their property.
The book was probably saved by William Cooke of Beeston, whose son Alexander was later Vicar of Leeds from 1615 until his death in 1632 and whose signature can also still be seen in the Missal.
When Alexander died, his library was acquired by incoming Vicar of Leeds, Henry Robinson, who then bequeathed it to his son, also Henry, who founded Holy Trinity on Boar Lane.
Among the book's many passages are the Mass of St Gregory's Trental, which was handwritten in Latin using red and black ink. The writer also added a number of unauthorised Saint's names, including St William of York.
Cistercian monks began building Kirkstall Abbey in 1152 on land which was given to them by nobleman Henry de Lacy.
They flourished until the Dissolution of the Monasteries when, on November 22, 1539, Abbot John Ripley surrendered the abbey to King Henry VIII's agents.
In the late 1800s the abbey buildings were bought by Colonel John North, who donated the ruins and grounds to the Leeds Corporation in 1890. Today, Kirkstall Abbey is one of the country's most well-preserved Cistercian monasteries.
As well as borrowing a digital copy, visitors to Kirkstall Abbey will be able to join a free audio tour which features more details about the abbey.
The Missal itself will be on display at Leeds Central Library for the next two weeks.
Entry to the abbey is free for Leeds residents who just need to provide proof of address on entry.