By Sharron Bright
Building on from a successful knitted yarn bomb last year, the Canal and River Trust will once again be bringing the Woolly Winter Walk back to Kirkstall Locks for the community to enjoy.
This year, volunteers from Hookers and Clickers Do It for Charity have knitted more than 800 hats, which will be turned into a canal-side Christmas tree.
On Saturday, 10 December 2022, the community will be invited along to decorate the tree by making pom-poms and other woolly decorations. These will be used to adorn the tree for others to enjoy. 
Anyone making a decoration for the tree will be able to take away their free pom-pom maker.
The tree will remain at Kirkstall Locks throughout the festive period. When removed, the knitted hats will be donated throughout Leeds to those experiencing homelessness or fuel poverty. 
The event will help to raise the profile of those who are homeless during the festive period and will promote the work of Simon on the Streets, a Leeds charity offering emotional and practical support for homeless and vulnerable people living in the city.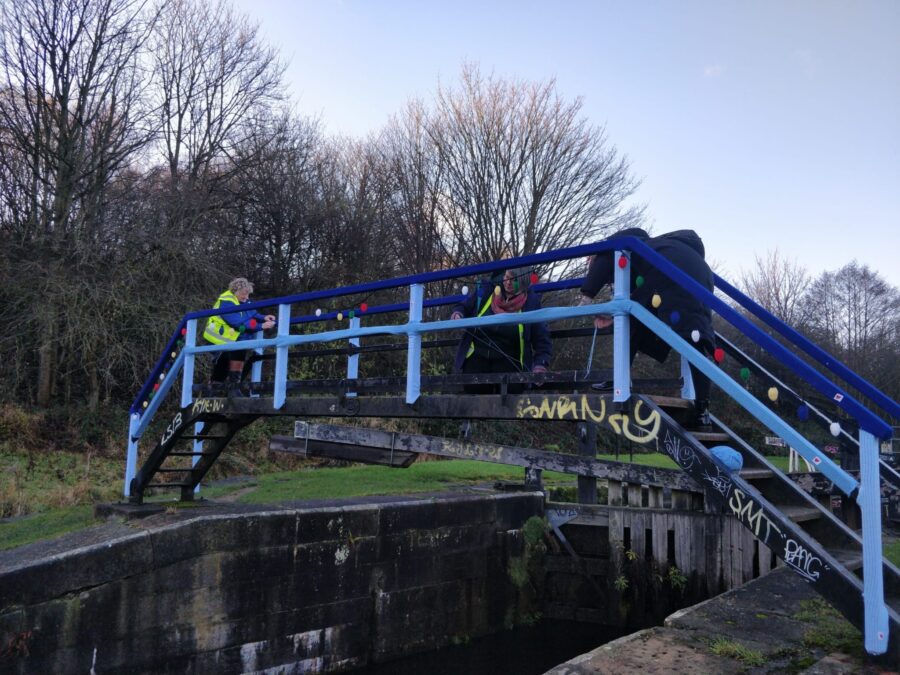 Walk the towpath to Wyther Lane car park at Kirkstall where you will be given all the resources to make the woolly decorations for our tree.
Add your decoration to the tree at Kirkstall Lock. The tree will be made from over 600 hand knitted hats that will be donated to those affected by homelessness or fuel poverty this winter.
People will be able to walk the towpath to see the knitted tree which is made up of over 800 green beanies knitted by the Hookers and Clickers group. They can then come along to a stall at Wyther Lane where they can make a pom-pom or try French knitting to create a decoration for the tree. Anyone who makes a pom-pom will be given a pom-pom maker to take away.
The tree will stay in place until after the New Year. Once taken down, the hats will be donated to an organisation to distribute to those people experiencing homelessness or fuel/heat poverty.
Make a pomp pom to add to the knitted beanie hat tree on Saturday, 10 December 2022, 11am-2pm, Kirkstalkl Lock, Wyther Lane, Kirkstall LS5 3BR.
Sign-up using the link below or turn up on the day: