A whole raft of community projects in West Leeds are set to receive a slice of a £128,500 funding pie.
Members of the Inner West Community Committee will allocate cash from their 2018-19 wellbeing fund allocation at a meeting next week, with projects ranging from supporting a new Armley Parkrun (which will receive £3,000) to £5,000 for the new Burley's Blooming community gardening project.
Other projects of include £5,000 for a new Get Fit, Get Fed, Get Active Bramley project, £6,000 to fund a community leader at New Wortley Community Centre, and £4,500 for the second annual Bramley Festival.
Also earmarked for funding are Kirkstall Festival, New Wortley Festival and Armley Festival.
Christmas lights switch-ons will also receive substantial funding from the budget. Festive lights hire will receive four-figure sums in Armley, Bramley and Kirkstall and there will be additional council funding for switch-on ceremonies in Armley (£3,500) and Bramley (£400 for the Bramley Lights Project).
The full list of projects recommended for approval can be read here: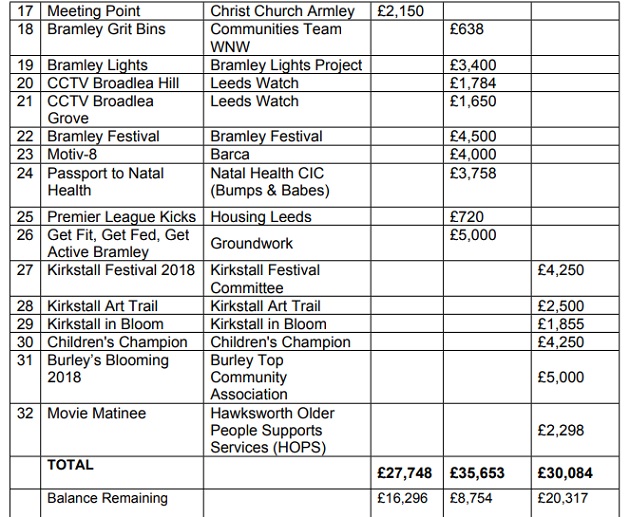 Capital projects to be allocated funding include:
With money left over from this year's wellbeing budget, councillors will also approve £7,100 funding to buy two speed indication devices to monitor speeding traffic and adapt six lighting columns so the devices to be rotated throughout the ward.
Armley will be better gritted following the recent cold spell, with £1,752 allocated to fund ten community grit bins.
Youth budget
The following youth projects are to be allocated funding under the £37,000 youth budget:
Open forum
Members of the public can highlight community issues or ask questions of councillors in a ten-minute section at the start of the committee. Local residents are encouraged to attend to raise local issues of concern.
Date and venue
The inner West Community Committee will meet at West Leeds Activity Centre on Lenhurst Avenue, Leeds LS12 2RE on Wednesday 21 March from 6pm. Members of the public are welcome to attend. The agenda can be read in full here.
The committee includes councillors and community representatives from Armley, Bramley & Stanningley and Kirkstall wards.