A Cultural Café is run by volunteers and is bringing people together through food and friendship. Community reporter Iola Shaw visited New Wortley Community Centre and found a sense of community and belonging…
Since lockdown started easing New Wortley Community Centre has been welcoming in people again as safely as it can – and the Cultural Café every Friday from 12 noon has been key to this.
With a fabulous plate of food for free, and the option to make a contribution if you want seconds, everyone is welcome to join in.
The centre café opens from 9am for breakfasts and a crafting group runs from 10am, the same time as the men's walking group heads out. It's not the most obvious of venues but head in through the entrance on Tong Road and you will get a warm welcome.
The café is here for everyone and, in an area where there are many people are from so many different communities, friendly support is vital.
Thankfully food is both a universal necessity and pleasure, so it's a great way to open up conversations about different tastes, culture, music and more.
The cultural café is provided by volunteers who live locally and have come along for different reasons.
Elsa Cabral lives nearby, is Portuguese and moved to the UK last year.
A neighbour recommended the centre to her a few months ago to get support as lockdown made it difficult to sort out some finances and job hunt. She was really keen to get involved, has got to know people, shared stories and really enjoys been able to exchange skills. Elsa received the advice she needed, and gave in return.
Portuguese food is her speciality, and as she cooks she says she shares so many happy moments and conversation.
Blessing Byra has lived nearby for over seven years. Like many people lockdown has been isolating and she has recently started volunteering at the centre. She is involved in a couple of projects and has become a regular on Fridays cooking and serving. She said it's really brought back her confidence and added:
"There's a great sense of community and belonging, it's like a fresh start I'm enjoying."
Over 24 people ate at the cultural café this week – and it's been getting busier every week since it launched in May.
As ever I was spoilt for choice once food was served up, each week there are two main meals on offer with different themes from across the world – spicy rice, bolognaise and an African stew, plus vegetables and plantain were offered today.
The centre really has got multicultural down to a tee, as I left the walking group had claimed the last of the food on offer and a regular game of Dominoes had replaced empty plates…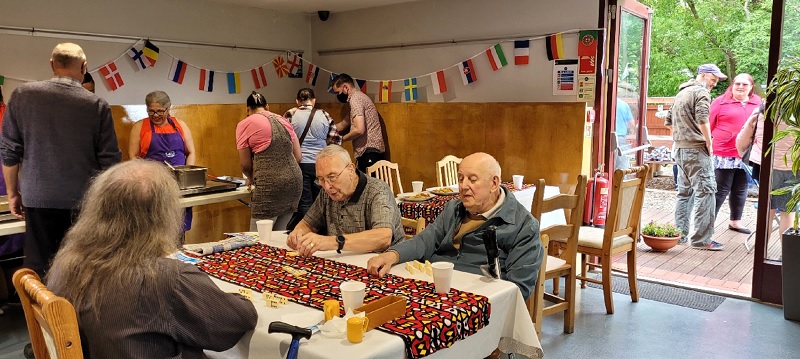 The centre is open Monday, Wednesday and Friday mornings 9am till 2pm at the moment – more information about groups and support offered as well as the Friday cultural café is available on the New Wortley Community Centre website and on Facebook.