By John Baron.
Additional reporting: David Spereall, local democracy reporter
A £200 million residential development will be built on the former Yorkshire Chemicals site off Kirkstall Road, after plans were approved in principle by councillors this afternoon.
Latimer, the development arm of Clarion Housing Group, has been given the green light to transform the vacant 13-acre riverside plot on Kirkstall Road and deliver up to 1,437 homes.
The not-for-profit developer bought the site in 2020 and will provide a total of 503 affordable homes – representing over a third of all the new homes built and far exceeding the minimum requirements set in the city. These homes will be a mix of social rent and shared ownership for local people, with the others being sold privately.
The wider Kirkstall Road scheme will provide one, two and three-bedroom apartments set across 11 blocks ranging from eight to 17 storeys in height.
There will also be 13 three-bedroom townhouses with private gardens and a dedicated new student accommodation block featuring 355 rooms for those studying at one of the city's four universities.
The development will be built in two phases, with councillors approving in principle a detailed application for the first 623 homes, subject to a raft of conditions.
But while local councillors have praised aspects of the scheme, including its design, they've rebuked the developers for committing to building only a handful of three-bed properties.
Of the initial 623 homes to be built, only 17 would be three-beds, with the remainder made up of one and two-beds.
Latimer, a subsidiary of the social housing provider Clarion, have indicated they'd be happy to look again at the housing mix among the wider scheme, once the first phase of building is under way.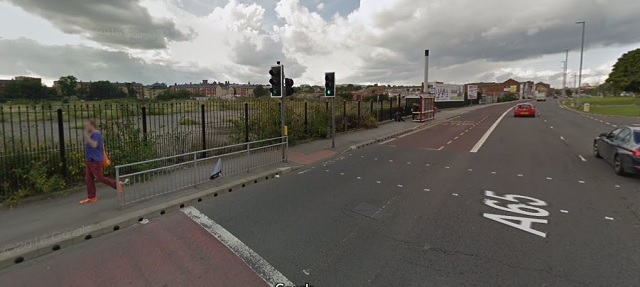 But speaking at a meeting on Thursday, where the plans were publicly debated, Councillor Al Garthwaite (Labour) said:
"There are number of large multi-generational families in that area and this doesn't cater for their potential needs. That's regrettable."
The council has expressed a strong desire to see at least 10 per cent of all mass housing developments become three-bed homes.
Conservative councillor Dan Cohen suggested that "marker in the sand has been washed away by the River Aire in this instance."
Addressing the concerns, Clarion's project director Mike Briffett said:
"We've tried to achieve the best housing mix we can.

"We've tried to create a scheme that's inclusive as it possibly can be. I take the point about three bed homes.

"We've worked very hard to come up with a scheme that's a sustainable scheme overall, not just from a design point of view, but from a financial point of view as well."
Richard Cook, Clarion's group director added: "We want to build a community people want to belong to here. That's the aim and that's what we're all about.
"We're going to be managing the development, so it has to be a success. We're not an in-and-out developer."
Councillors voted to approve the first phase of the scheme in principle and defer the final approval to planning officers, subject to a number of conditions being met. The rest of the development was approved in outline form, meaning a full planning application will need to be approved at a further date.
Labour councillor Neil Walshaw said: "A lot of this (application) is very good but what a strong community needs is long-term residents and that comes from three-bed properties.
But he added: "I think it is an excellent development. I like the designs as a nod to the industrial heritage of the area and I think they'll age well on the Leeds skyline.
It's hoped the finished development will transform the River Aire's frontage when work starts in the summer.
Latimer's masterplan – designed by architects Broadway Malyan – will deliver a brand-new riverside park, a river crossing and a range of creative and commercial areas to host art, cafes, a food hall, independent shops and public workspaces.
The proposals, approved by Leeds City Council's planning committee, also include a supplementary social project to tackle local homelessness in and around the city. In partnership with charity St George's Crypt and the council, Latimer will provide nine secure temporary accommodation units on the site for rough sleepers for around three years while the development is built.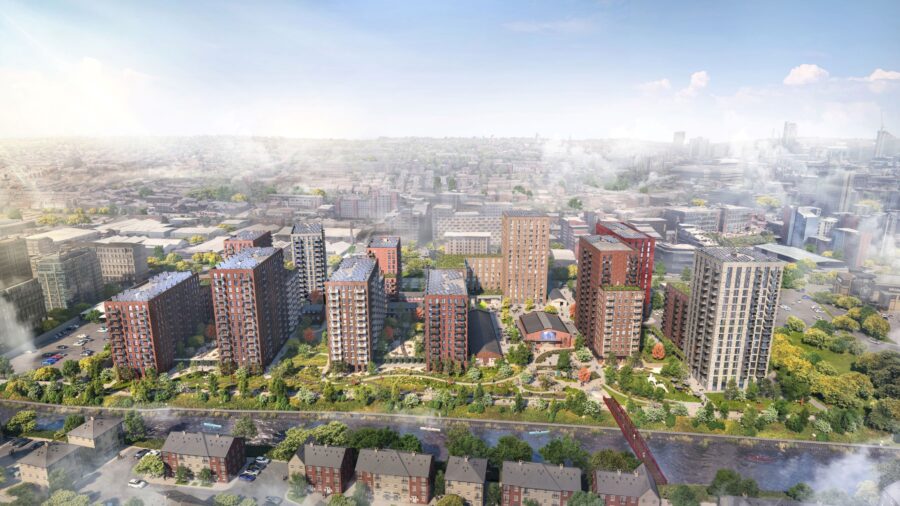 Nearly half of the 13-acre site's footprint will be green space while landscaped areas, including 250 new trees, will be designed to encourage social interaction and communal 'grow your own' planting zones.
The homes will feature photo-voltaic solar panels and will not use fossil fuels. There will be over 1,100 secure cycle parking spaces as well as electric car charging points for residents. New pedestrian walkways, a bridge and cycle paths will improve local connections – reducing the site's carbon footprint and helping to keep cars off the nearby streets.
Richard Cook, Group Development Director at Clarion Housing Group, welcomed the decision. He said:
"We are delighted to get the green light to transform a key strategic site for Leeds which has remained undeveloped for more than 30 years. Our project will kickstart development on the Kirkstall Road corridor, creating an exemplar and sustainable mixed-use community for the city.

"We want this development to set the benchmark for new housing in Leeds, including a substantial number of affordable homes for those who need them most."
Work on the new development is expected to create around 270 site jobs during each year of the build programme, as well additional opportunities for young people. Over 100 apprenticeships and work placements are likely to be available throughout construction.
Work on the Kirkstall Road site, which developers says will deliver an estimated £300m in social value to the city economy, will begin in summer 2022 with an expected completion date of 2029.
Papers connected to the application can be read in full here.