West Leeds has so many different and diverse communities – and the people living there have individual stories and experiences to tell.
West Leeds Dispatch is running a community reporters' training course in Armley on a Tuesday morning. Last week our 'cub' reporters interviewed each other about their experiences. Here are some of their reports…
Kirkstall's a great place to live – apart from traffic
Words: Kay McGrath
"Kirkstall is a good place to live!" says resident Patsy Taylor, who lives across the road from Kirkstall Abbey.
Before retiring she would walk to work at Leeds Beckett University in 17 minutes using various different routes. Patsy enjoyed walking to work in the knowledge she was not contributing to city air pollution, which is a concern for her and many other residents.
The negative of Kirkstall is the A65 goes through it and is the main cause of air pollution in the area caused by traffic fumes.
Authorities have said that the air pollution is monitored on a regular basis, but to Patsy's knowledge this is not backed up with results.
The plus side of living in Kirkstall is that Patsey feels safe and secure in her home; she has lived there for a number of years and has made friends with neighbours.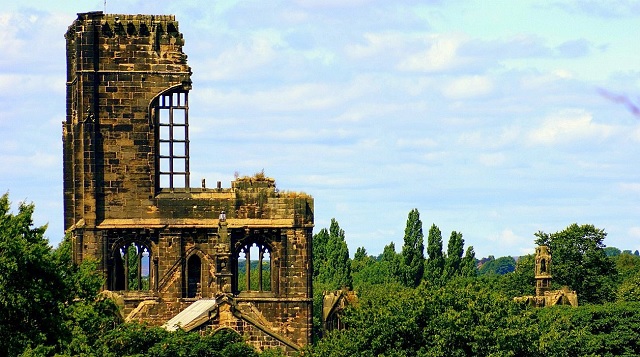 Friendly Armley Town Street has its virtues
Words: Peter Allison
Could Armley really be cosmopolitan? According to Susan Johnson, a local resident of 30 years who lives in the Gotts Park area and regularly frequents Armley Town Street, yes it is.
She talks of how there is diversity in the area and the friendliness of passer-bys and how she enjoys her visits to Karpaty's Bakery for her baked needs and fresh bread.
Susan describes how Karpaty's has no Polish word for brown bread and has adopted the term 50/50, so despite many languages being spoken in Armley, they have found ways of adapting so that all can enjoy baked goods.
Armley Town Street in recent years has become synonymous with anti-social behaviour and drunken incidents, and while Susan acknowledges that she has heard of the anti-social behaviour complaints, she is herself yet to see that side of it. However, she confessed to not going into the area on an evening.
Armley Town Street in recent years has attracted negative attention, and Susan believes that this is somewhat an incorrect assertion. She says the news fails to speak of the positive aspects of Armley, such as Gotts Park Municipal Park, which is a regular haven for dog walkers.
Susan described how a game of 18-hole golf could be enjoyed on a Friday for as little as £5, which is unheard of.
So with the attraction of affordable housing, local amenities – including its own leisure centre – park, Town Street, a friendly, diverse and broad culture, is Armley cosmopolitan? It just might be…
Finding the heart of Farnley
Words: Susan Johnson
Whilst discussing our local communities with Farnley resident Peter Allison, the question was asked 'where is the heart of this community?'
Bramley, Armley and Farsley all have vibrant Town Streets with plenty of shops and cafes to meet. Pudsey has a market square, Kirkstall the Abbey and museum, but what has Farnley to offer?
It can boast a beautiful and well-used park and plenty of good walking areas in the surrounding countryside, but where is its heart?
The reference to Old and New Farnley is confusing, as it suggests an unbreachable dividing line and the heart needs to embrace the whole of Farnley as one, as Peter believes.
The answer would hopefully be the Farnley Community Centre, on Hall Lane, of which Peter is chairperson.
With the help of local volunteers they are doing their best to rebuild the centre towards a more thriving and exciting enterprise with something for everybody to enjoy.
It might be a long haul given its chequered past, but with such dedicated enthusiasts Farnley will have a community hub to enjoy where everybody will be welcomed.
Dog walking and making friends in Armley
Words: Patsy Taylor
Ever thought retirement boring? Sitting at home putting on pounds is no fun, so maybe you should get yourself a pet. Lots to choose from, but what could be better than a dog, soon becoming a major member of your family – loving and fun to have around but also an exercise instigator.
Kay McGrath lives in Armley, close to St Mary's Hospital, and takes her dog for daily walks around the area.
It wasn't long before the amazingly close dog walking community made great friends with her and soon Kay was sharing conversations and invitations to the homes of her new pals – mulled wine on a cold evening, a party to celebrate Christmas.
In such a warm community a dog is an invitation to friendship as well as a pusher for daily exercise to keep you healthy and fit but beware – if you don't want muddy paws around the house on a wet winter day perhaps a hamster is for you!
An Indonesian student's experience of Leeds
Words: John Taylor
I spoke with a visiting exchange student from Indonesia currently finishing her studies at Leeds University.
Jamie lives in a university hall of residence near Woodhouse Moor and is enthusiastic about the part of Leeds she has come to know best over the last six months. She travelled over 7,300 miles from Jakarta to Leeds and was very impressed by the multi-national nature of the Woodhouse-Hyde Park area.
Jamie enthused about the wide cultural mix she experienced and especially noted the interesting range of cuisine she could sample – Chinese, Indian, Mexican, various Middle Eastern restaurants and cafés as well as, she diplomatically added, the English eateries also.
She felt she was very well located not just conveniently for her studies but for exploring so much locally on foot and using the buses to into Leeds to visit the centre and out to Headingley and beyond.
Jamie found the people she met in Leeds very friendly and welcoming. She had clearly engaged fully in her six months here and had enjoyed improving her excellent English skills.