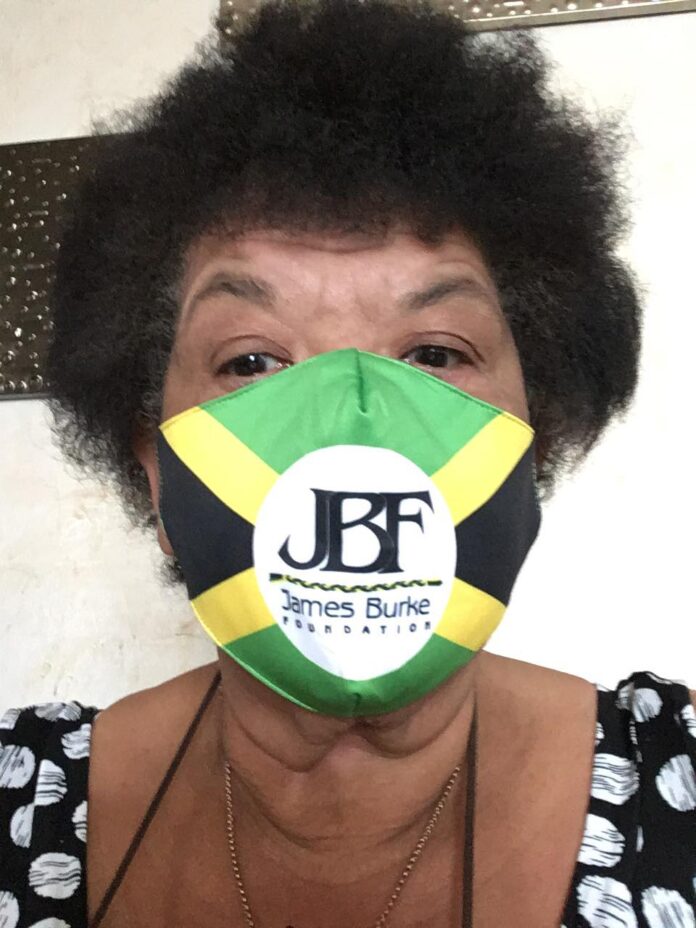 Sharon Burke is the founder of The James Burke Foundation, which she set up after her only son took his own life in April 2017. Community reporter DAMON COOPER spoke to Sharon about her work with Bramley Buffaloes Rugby League Club…
Launched with former rugby league player Sonny Nickle at South Leeds Stadium in late 2018, The James Burke Foundation made its way to West Leeds a year ago when it partnered with Bramley Buffaloes.
The rugby league-themed charity stands alongside Stevie Ward's Mantality and Andy's Man Club for mental health campaigning and has grown organically via a strong sporting community in West Yorkshire.
Mantality offers paid subscription-based support alongside freebies from articles to podcasts, while Andy's Man Club hosts regular meetings for men wanting to be more open in a confidential setting.
Sharon Burke has been working with Bramley Buffaloes for around a year. She has attended an all-parliamentary rugby league dinner as a guest of the chairman, spoken about mental health for a video and had the charity's logo featured on the club's shorts in a hectic period for the West Leeds-based sports club. She said:
"If I can stop one person feeling the way I do then it will have been a success, if we can stop one young person feeling they're at the point of no return then it's a success. I just want James' legacy to be positive because that's how he lived his life."
Martyn Cheney, Chair of Bramley Buffaloes, said:
"Sharon and The James Burke Foundation have been a credit to Bramley Buffaloes. We've done a lot to support them too but the rugby league community as a whole could do more to push this cause by giving Sharon a platform."
James Burke was a law student at Leeds University where he made many friends and played for the Gryphon rugby league side. His funeral was attended by hundreds, with friends having #JB20 tattoos in his memory. They have been doing lots since to raise funds and awareness for The James Burke Foundation, which was set up in his memory.
Mum Sharon told WLD:
"The rugby team and other sports teams have been unwavering in their support. They staged a cross code match to raise funds and awareness which will have the James Burke memorial trophy. Unfortunately it had to be cancelled last year because of COVID restrictions. They have run marathons, created cocktails, their kits all have the JBF logo on them ( women and men's). Some called me on New Year's Eve to check I was ok, indicative of how they are. I can't express my gratitude, they have never forgotten James or me."
The biggest Sporting achievement James had was representing Jamaica Rugby League in the 2014 Commonwealth Games.
The island nation team has since supported The Foundation where possible, while growing from strength to strength by qualifying for the 2021 world cup and securing the services of media mogul Alex Simmonds alongside England world cup winner Jason Robinson MBE as joint operation directors.
"When he played, my friend drove to Glasgow. It was an amazing day, I was so proud that he was playing for Jamaica as a heritage player. My dad was Jamaican," Sharon said.
Black Lives Matter has become increasingly prominent in the sport, with posters advertised in stadiums and an increase in black representatives have started appearing on rugby league related media. Whilst The James Burke Foundation remains non-political, being black has affected the founder's life and as a community more could be done to support Sharon.
"Our colour meant that we wouldn't be judged as leniently," Sharon said.
In 2017, educator and author James Oddy released True Professional: The Clive Sullivan Story, which covered Britain's first appointed black captain of any sport in 1972. The Welsh-born player scored 406 tries in 639 appearances for Hull FC, received an MBE and starred on TV's This is Your Life. Clive also captained a world cup winning British rugby side but ,unlike rugby union's Sir Johnny Wilkinson, he wasn't knighted by her majesty.
James Oddy told West Leeds Dispatch:
"Society wasn't supportive of his achievements."
In 2018, GMB Union Young West Yorkshire and North Derbyshire members introduced Sharon Burke to Emma Oliver at Radio Aire Leeds as part of the #MentalHealthMatters campaign for World Suicide Prevention Day.
Both mums took to the airwaves to talk about losing their sons to suicide. Emma lost her son, Daniel Oliver, after killing himself due to stress over his GCSEs.
"Looking at Sharon I could see the sadness in her eyes like mine but the determination and grit like me to change how we treat mental health sufferers and how we must change the system for the better," Emma wrote on Facebook at the time.
Mental health campaigner Sharon recently published her book In my Defence – Life After Suicide: The things no one tells you, but they should! which covers her story up to date and you can buy this via Amazon with all profits going to the charity.
You can also find the James Burke Foundation on Facebook if you wish to get in touch with Sharon or the charity itself. Information if you need further mental health support in Leeds is also available here.
The James Burke Foundation set up its national office at Proton Business Park in New Wortley last year.