A friendly triathlon group in Bramley has won a prestigious award from Triathlon England for its community ethos and inclusivity – and is urging West Leeds residents to 'come along and have a go'.
The Tri-BB group, based at the Edwardian Bramley Baths, scooped the Inclusivity Award in the 2022 Triathlon England awards due to their community-focussed approach to engaging members and new members in swim, bike, run.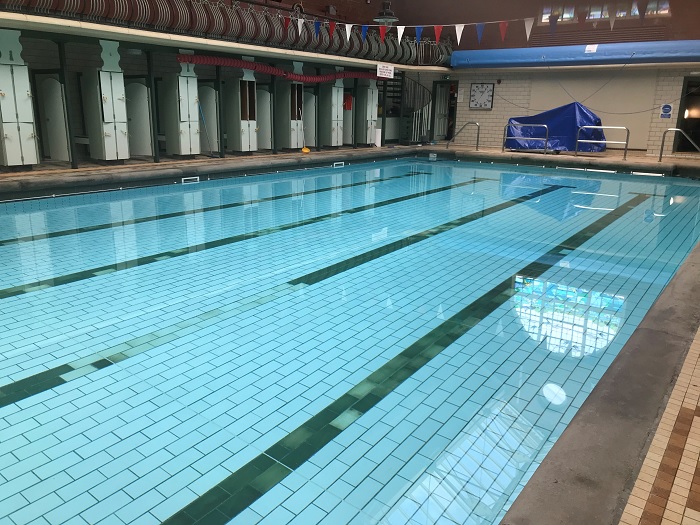 The award was welcomed by Tri-BB chair Simon Price-Jones, who said the club was very welcoming and operated in a no-pressure environment. He added:
"We're very honoured to win the award. We want to make tri available to anyone who wants to do it. We do a lot of work with beginners, helping them to find a way into this fantastic sport of ours.

"At other clubs you can get cliques forming, which can be quite intimidating. It's very different here – it's more about 'come and have a go'. You get a friendly welcome from a close-knit bunch of people who will all help you.

"Since the community takeover in 2013, Bramley Baths has become known as the 'friendly baths' and we are trying to tap into that ethos. They're community baths in a community space for all."
Tri BB member Gareth Shepherd pointed to member James Hunt, a teacher who started off terrified of open water but ended up competing in an Iron Man challenging and fearlessly swimming 2.4 miles.
"First thing he did when he picked up his award for most improved member was thank the club and its members for their support," added Gareth. "We are supportive. Some people think tri is about becoming this chiselled athlete, but it isn't, for us. We have a range of abilities and ages. It's different here."
Claire Higgins has helped to get the junior section going, and there is now a waiting list to join – and one of the juniors has now graduated to attend the adults' group. Gareth added: "Thousands of kids learn to swim here through lessons – my kids come here – but not all of them are ready to swim for City of Leeds.
"Coming to junior tri keeps youngsters active and it's a place where they can come and enjoy themselves, as well as keep pushing themselves."
Member Emma Young backed up the tales of a friendly welcome at Tri-BB. She said:
"The club welcomed me, someone who had a fear of water and wouldn't put my face in the water. Thanks to the encouragement I went on to do the GoTri at Leeds Triathlon, which included a 400m open water swim. I couldn't have done this without the support of the coaches and the other members."
Nic Hunter added:
"Tri-BB are welcoming from day one. Little things like remembering your name when giving encouragement make them stand out from other clubs I have experienced. I am especially thankful of the effort they go to make sure there are enough coaches to cater for experienced and beginner club members at the same time."
And Clare Addy said there was always a warm welcome. She added: "No matter your ability, experience, background. Everyone is encouraged to get stuck in, get fitter and have a fantastic time while doing so! I've some serious and 'hidden' health conditions, but never feel awkward sharing these at TriBB as I know they will be accommodated."
Entry requirements for Tri-BB are fairly relaxed. You need to be able to swim four lengths' front crawl. "And if you can only do two lengths, we'll help you to do eight, and if you can do four lengths we'll encourage you to do 12…" added Gareth.
At least half of the Tri-BB crew are women – a higher proportion than many triathlon clubs.
And memberships are kept at a reasonable £15 a year to encourage community participation.
MFor more information or to join Tri BB, visit their Facebook page.