A former West Leeds councillor who led the community response to the 2015 Boxing Day floods in Kirkstall and Burley is to be made an Honorary Alderwoman for Leeds.
Lucinda Yeadon spent 10 years as a councillor for Kirkstall Ward from 2008 until 2018.
And next Wednesday her contribution to the community will be recognised at a special Leeds civic meeting which will see 14 former councillors made Honorary Aldermen and Alderwomen.
The ceremonial position of Honorary Alderman is open to any person who, in the eyes of the council, has given eminent service to the area in a public position. It does not entitle the holders to any special privileges, but does enable them to attend civic functions, such as Remembrance parades, and actively support the Lord Mayor's charity.
Lucinda, who is now the community liaison manager for developers CEG at their Kirkstall Forge development, told WLD she was honoured by the recognition.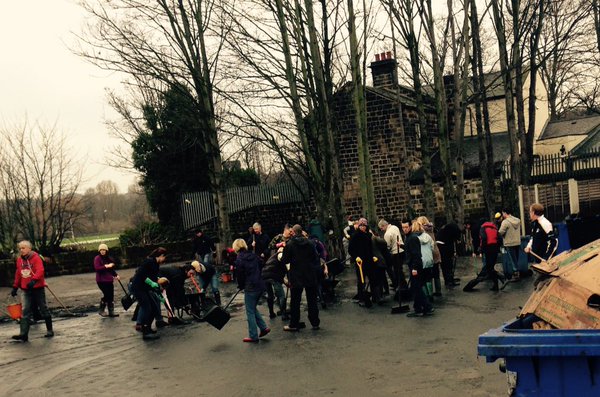 "It's is such an honour and it is really lovely to have my name put forward," she said. "Leeds is my home, I've never lived anywhere else. I'm really passionate about the city so to be nominated is wonderful.
"It's important that you don't need a title to recognise that you have done some good in the community. Kirkstall and West Leeds has a great tradition of community activism and people making a difference.
"I know Kirkstall and Burley is full of wonderful activists who do such great work, often without recognition, and there are so many local groups who do voluntary work that it would take me all day to list them all."
Lucinda took a lead role in the community response to the Boxing Day floods in 2015 when the River Aire broke its banks and flooded surrounding areas.
"I was in a lucky position as a councillor at the time, which allowed me to be a catalyst to allow the community to respond to the floods, and to help organise the clean-ups," she said. "But to be honest I was knocking on an open door, people wanted to help and were only too happy."
Lucinda also highlighted the community response to the Covid-19 pandemic and to the current cost of living crisis as prime examples of community spirit in Kirkstall.
"People are seeing the good of being active in their community more and more, which is in some ways wonderful but in other ways it's sad that they have to," she added.
Lucinda is also part of an informal organisation called the Kirkstall Mafia, which a collaboration between community organisations and activists based in Kirkstall ward. She says discussions have been taking place over how they can support people during the cost of living crisis.
The special award ceremony will take place next Wednesday at Leeds Civic Hall, at 4pm. More details can be found here.
The full list of former councillors to be made honorary alderman and women is:
Jonathan Bentley (Lib Dem)
Baroness Judith Blake of Leeds CBE (Lab)
Rebecca Charlwood (Lab)
Neil Dawson (Lab)
Judith Mary Elliott MBE (Morley Borough Independent)
Angela Gabriel (Lab)
Kim Susan Groves (Lab)
Peter John Gruen (Lab)
Graham Naylor Latty
Patricia Ann Latty (Cons)
Elizabeth Nash, who lives in Kirkstall (Lab)
Adam Patrick Ogilvie (Lab)
Steve Smith (Lib Dem)
Lucinda Yeadon (Lab)
Sponsored content