Words: John Baron
Flood alerts have been issued for the River Aire due to heavy rain – and Wortley Beck has already broken its banks, leading to the closure of the Ring Road.
The Environment Agency has issued flood alerts for Wyke Beck, Meanwood Beck and Wortley Beck catchments in Leeds as well as the Middle River Aire catchment.
A flood warning has been issued for the River Aire at Cardigan Fields Leisure Park and Kirkstall Works.
The A6110 Ring Road at Wortley was closed yesterday after Wortley Beck broke its banks near Matalan and the junction with Branch Road, flooding some local homes. The flood alert for Wortley Beck can be read in full here.
A6110 currently closed due to #WortleyBeck bursting its banks.

Road closure from Butterbowl see picture attached.@WLDispatch @RachelReevesMP @MarkJSewards pic.twitter.com/CQXVMYUUqw

— Open Water Related incidents & advice (@OpenWaterAdvice) February 20, 2022
The Ring Road closure has led to the diversion of bus numbers 9 and 42:
⚠️ SERVICE UPDATE ⚠️

Service 9A
Wortley Ring Road closure, diversion as follows. pic.twitter.com/3DAbmGen7O

— First West Yorks (@FirstWestYorks) February 20, 2022
⚠️ SERVICE UPDATE ⚠️

Service 42

Wortley Ring Road is closed, service will divert as follows, this diversion is in place until further notice. pic.twitter.com/zX8H7jW2Uw

— First West Yorks (@FirstWestYorks) February 20, 2022
A West Yorkshire Police spokesperson said in a statement: "Motorists and road users in #Leeds are advised to avoid the A6210 Whitehall Road and the A6110 outer ring road/Wortley Lower Ring Road due to traffic congestion caused by flooding in the area.
"Several bridges, including foot bridges, over the River Aire have also been closed in #Leeds due to concern for safety after a large pontoon broke free from its moorings. People are asked to avoid the area."
More details about the River Aire alert can be found on the Environment Agency website.
Incredible footage of a disused footbridge near Armley Mills being destroyed by a pontoon used to build flood defences in the Kirkstall Valley can be watched here.
Farnley Reservoir and water safety campaigner Daniel Riley also posted videos of a swollen Farnley Reservoir:
In the area of #FarnleyReservoir, please avoid the area due to fast-flowing water. & extremely high water levels. #StormFranklin @WLDispatch @RachelReevesMP @MarkJSewards @YWHelp pic.twitter.com/w1w28j3DLS

— Open Water Related incidents & advice (@OpenWaterAdvice) February 20, 2022
Troydale Lane in Pudsey is no longer passable as the beck has breached its banks. Pudsey Councillor Simon Seary said earlier today:
"We are continuing to monitor the situation at Troydale, the council gully team attended this morning and ensured that all the gullies were running. The fire service is on standby to attend if the water levels continue to rise in the beck which prevent the gullies from operating."
Kirkstall Valley Development Trust (KVDT) have posted a photograph of a waterlogged Kirkstall Valley Farm on social media. The River Aire has breached its banks in at least three places on the community led farm, leaving some fields swamped.
KVDT posted: "Sadly Kirkstall Valley Farm is looking ever so soggy! Tragic to see it looking so sad but thankfully the site has been evacuated and everyone is safe."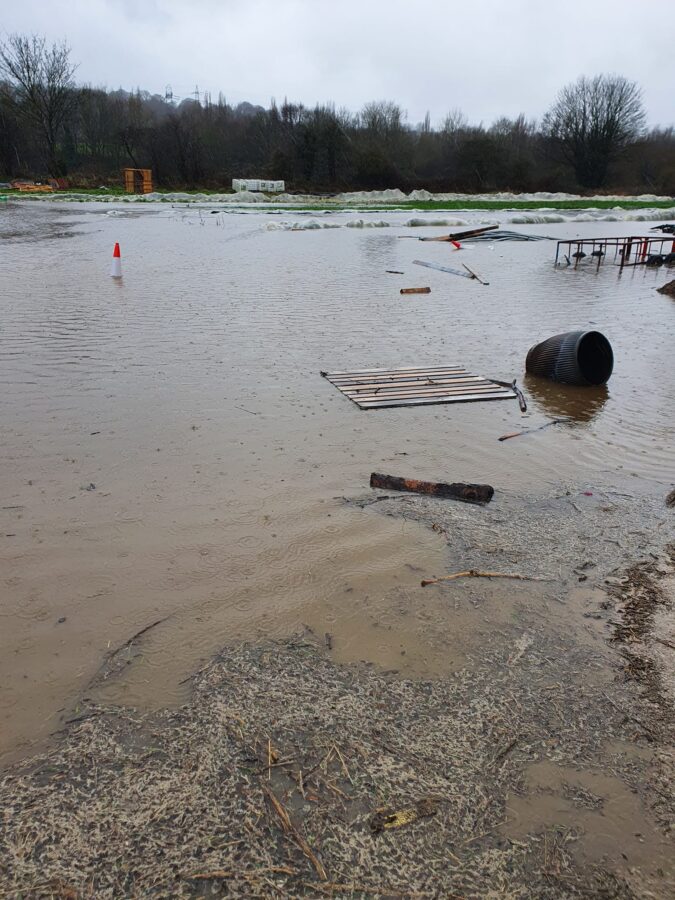 What's a flood alert?
There are three different levels of flood warning when bad weather strikes, including a flood alert, a flood warning, and a severe flood warning.
The three levels each indicate varying severity, with a flood alert being the lowest.
If a flood alert is issued, this indicates that an area should prepare, including making defences, preparing a bag that includes medicines and insurance documents, and staying up to date with the latest flood alerts.