Boxing Day 2015 saw Storm Eva hit the region, causing the River Aire to break its banks to devastate homes and businesses, costing Leeds an estimated £36.8million.
Five years on, a £112.1million scheme to better protect the A65 Kirkstall Road corridor and areas of Apperley Bridge is offering hope to 1,048 homes and 474 businesses.
Council chiefs are this week celebrating a successful first year installing flood defences along the River Aire between Leeds Station and Kirkstall.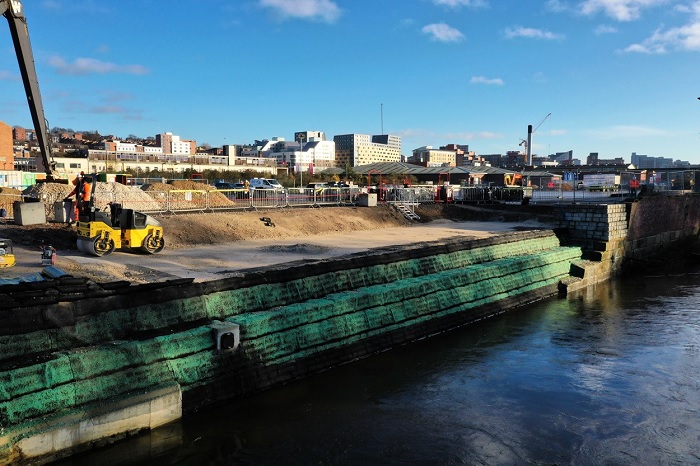 The Leeds Flood Alleviation Scheme Phase 2 is employing traditional engineering and natural flood management techniques to reduce risk in Leeds.
Delivered in two stages, step one will see flood defence walls running along an 8km stretch upstream of Leeds Station and will reduce the risk of flooding to a 1% chance of occurring in any given year (1 in 100 probability), including an allowance for climate change.
Subject to a successful planning application and business case approval, step two will reduce the risk of flooding further to a 0.5% probability (1 in 200) and comprises of a flood storage area between Horsforth and Rawdon, alongside flood defence walls, embankments and a new pumping station at Apperley Bridge.
Together with ground investigations and detailed design, construction of flood walls as part of step one began in January 2020, starting near Wellington Bridge in the city centre.
Work to raise an 18 tonne footbridge at Milford Place also began this month. Raising the bridge will reduce flood risk at this location by preventing obstructions in the river channel.
Leeds FAS2 is due to be complete in winter 2022/23 and, once in place, will provide a consistent 1 in 200 year flood protection to the River Aire between Apperley Bridge and Knostrop.
Alongside this, a flagship Natural Flood Management (NFM) programme – the first of its kind in the UK to deliver to such a scale – will include the creation of new woodland, leaky dams, moorland restoration and a number of other interventions. 
300,000 new trees are expected to be planted by the end of April next year which will help reduce the flow of rainwater into the river, as well as bring additional benefits such as increased biodiversity, additional carbon storage and new habitat creation. This will play a significant role in the city's response to tackling climate change.
Councillor Judith Blake, Leader of Leeds City Council, said:
"There is no doubt that together with our partners, we have made great strides in our efforts to protect this part of the city from flooding.

"Whilst it's been an incredibly challenging year for everyone, we have pushed ahead, adapting to new ways of working with a vigour that we can be truly proud of. We must not forget the devastation of Storm Eva. Instead, we must use this awful memory as a way to drive forward our ambitious plans to respond to the risks facing our city due to the climate emergency."
Adrian Gill, flood risk manager at the Environment Agency said:
"The fifth anniversary of the 2015 Boxing Day floods acts as a stark reminder of the devastation flooding can cause to people, property, infrastructure and the local economy. Since then, we have worked closely with Leeds City Council to develop the best possible flood alleviation scheme for Leeds.

"As well as reducing flood risk, this catchment based approach will create new habitats, increase biodiversity, improve water quality and create climate resilient places."
The work is being delivered by Leeds City Council in partnership with the Environment Agency, BMMjv and Aecom.
Advanced works have also been completed to deliver parts of the Phase 2 scheme early on, including completion of a 730-metre long flood wall in September 2018, protecting 88 businesses in the area of Stourton, the removal of redundant structures at Milford Place and underneath Gotts Bridge along with a number of NFM pilot schemes at Harden Moor, Eshton Beck and Marlfield Farm.
The work follows completion of the first phase of the Leeds Flood Alleviation Scheme in October 2017 where flood defences were installed along the River Aire in Leeds for the first time. The £50million project began with works completed downstream in Woodlesford, which proved effective during the Christmas 2015 flooding, before moving into the city centre with measures featuring the introduction of state-of-the-art moveable weirs at Crown Point and Knostrop to control river levels.