Community-spirited firefighters carried out a rescue with a difference this week when they came to the aid of worried volunteers in Farsley.
Thanks to the Friends of Hainsworth Park group work contractors have been building a new playground area for youngsters following a community fundraising appeal last year.
Work has just about finished on the playground area – but volunteers found the recently laid turf was drying out due to the unseasonably dry weather. With no heavy rain forecast over the coming week, they put out an urgent appeal on Facebook for help.
Firefighter Nicola Carthy, from Stanningley Fire Station, saw the plea for and pledged to send an appliance out to help save the new grass area from turning into a desert.
Friends of Hainsworth Park volunteer Becs Rivett-Kemm, who lives opposite the park, had been using her own garden sprinkler to try water the grass, but had found it inadequate for such a large area.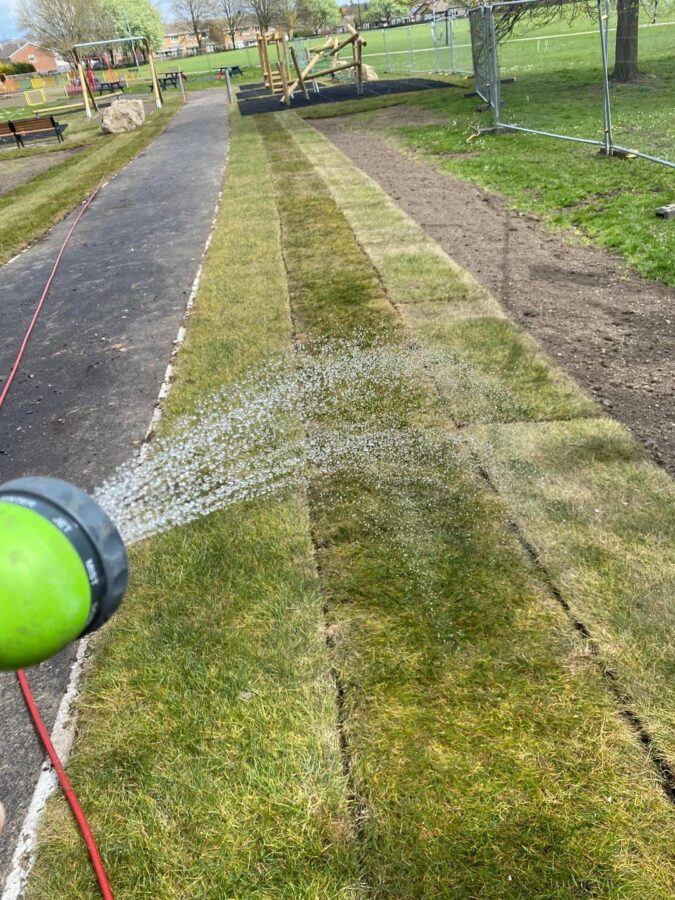 Becs said:
"We want to say thank you to the fire brigade coming out at a time when they weren't busy fighting fires. We really appreciate the community spirit and it's amazing what we can do when we all work together as a community.

"It didn't take them long to give it a good soaking to help get the turf established and prevent it from turning into the Sahara desert."
Leeds Parks Department has been in touch with the contractor to make sure they have a maintenance plan in place for the turf from now on.
It's hoped that the new play area will be open in time for Farsley Festival on 4 June.
The Friends have raised more than £30,000 via grants and community donations to build the natural landscaped play area for physical and adventurous play next to the existing playpark.
Follow WLD's ongoing coverage of the Hainsworth Park fundraiser here.