Eight companies have signed new deals at the thriving Sunny Bank Mills complex in Farsley.
The deals, including tenants from the beauty, catering, photography and architecture sectors, underline the renaissance of Sunny Banks Mills, where YTV's Emmerdale and Heartbeat were filmed.
During the past seven years the multi award-winning Sunny Bank Mills, one of the most famous family-owned mills in Yorkshire, has been transformed into a modern office complex for the 21st century. It is now home to more than 70 companies, who employ a total of 355 staff.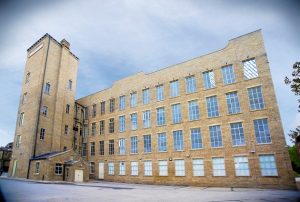 One of the tenants who has signed a new three-year lease is photographer Chris Leah, whose studio has been based at The Mending Rooms at Sunny Bank Mills for the past 10 years. He said:
"I first came to Sunny Bank Mills when I was looking to set up a photographic studio in 2008. I was looking for a small affordable space and found it here, long before the site began to be developed.
"I don't have any plans to leave Sunny Bank Mills. It's a great place to work and clients love coming here as well. Farsley has a real buzz about it too."
Meanwhile Emma White, jewellery designer, teacher and online retailer of The Jewellery Makers, based in Red Lane Mill has just signed a new three-year lease. She said that her work and her life have been very much bound up in Sunny Bank Mills for the past five years:
"I love Farsley and I love the mill. I have recently launched the jewellery collection of Alice Chandler who works in the gallery at Sunny Bank. She is an arts graduate who came to my jewellery classes which I run from my studio, then set herself up making jewellery.

"I run classes and workshops from the studio in the Mill and I am also going to be exhibiting jewellery alongside Mel Davies (who is an amazing painter and has a studio in Sunny Bank Studios) at the end of the year.

"The title is 'Every Picture Tells a Story' and I am designing a new collection for it and hoping to feature snippets of local people's stories. I am very much entwined with life at the mill."
Simon Smithson of Think Architecture Ltd added:
"We have just signed a new lease for what has proved to be a great home for us. Sunny Bank Mills is full of character and environmentally friendly, while landlords William and John Gaunt have been amazing."
Caterers Bears Pantry, beauticians Be Beautiful and photographers David Ward, John Hutchinson and Tracey Welch have all committed their futures to Sunny Bank Mills by signing brand-new leases.
William Gaunt, joint managing director of Edwin Woodhouse, the owners of Sunny Bank Mills, commented:
"These eight deals underline the versatility and flexibility of space at Sunny Bank Mills, which is attracting an exciting breadth of occupiers. They also illustrate the strength of the post-Brexit Yorkshire economy, with all eight companies having the confidence to commit their future to us at Sunny Bank Mills."
John Gaunt, joint managing director of Edwin Woodhouse, added:
"These are exciting times at Sunny Bank Mills. We will shortly embark on the demolition of redundant buildings on site, opening up our historic mill complex and paving the way for future development."
Sunny Bank Mills announced three new tenants from the textile, HR and safety consultancy sectors, in June.