Words: John Baron
Photos: Simon Cullingworth and John McEvoy
As Sir Alex Ferguson once famously said: "Football. Bloody hell." You'd be hard-pressed to summarise Farsley Celtic's final day drama any better than the tenacious Scot.
The Celts were saved from relegation following Guiseley's last-gasp defeat at Alfreton in a dramatic and tense final day at the bottom of the National League North.
Farsley, who started third-bottom, were were two minutes from the drop due to defeat against play-off chasers Boston United.
But they earned a reprieve from elsewhere as Guiseley, who started bottom, were the victims to a dramatic late turn of events which saw them concede twice to Alfreton in the 88th and 94th minute and lose 2-1.
Both goals were celebrated by long-suffering Farsley fans as much as any goal at the Citadel this season. Farsley fans invaded the pitch in pure joy as news of Alfreton's second goal filtered through:
As for the match itself, the 90 minutes was torturous for home fans.
Boston scored in each half through Jake Wright jnr and Danny Elliott, securing them a play-off spot. The visitors started strongly as The Celts seem to struggle with the occasion, and it was no surprise when they took the lead.
Farsley left their shackles in the dressing room at half time, and had several good chances through Mulhern, Greaves, Parkin and others. Missed chances have been a curse for The Celts all season and Boston's second goal effectively ended the match.
A busy summer ahead
The importance of Farsley staying in the league will not be lost on anyone as Russ Wilcox, who only took over as The Celts' third manager of the season in February, masterminded an unlikely great escape.
When Wilcox took control, the team was in a downward spiral and hadn't won since November. He got the players looking like a team again and did just enough to turn fortunes around.
Wilcox battled through an injury crisis with only 10 senior outfield players available at times, so it's no mean feat for a club as small as Farsley to survive in a league with full-time outfits and considerably larger budgets.
Yesterday was justifiably one of celebration but this summer will be absolutely crucial if the club is to avoid another difficult season.
In a 'normal' season, three clubs go down, not one. And Farsley would have been doomed had league bosses not decided to expand numbers this year.
Securing the future of key players like Spencer, Mulhern, Atkinson, Clayton etc is essential. It seems a pipe dream that loanees such as Digie, Robson, Greaves and others will make a permanent drop to this league, so there are important figures from 'the great escape' to replace.
The biggest question is over the manager. Wilcox was non-committal on his future at the club in his post-match interview, where he spoke about his delight over an 'unbelievable' day and praised players' efforts:
Wilcox said he hoped to sit down with chairman Josh Greaves next week to discuss the way forward. Let's hope the discussions are positive.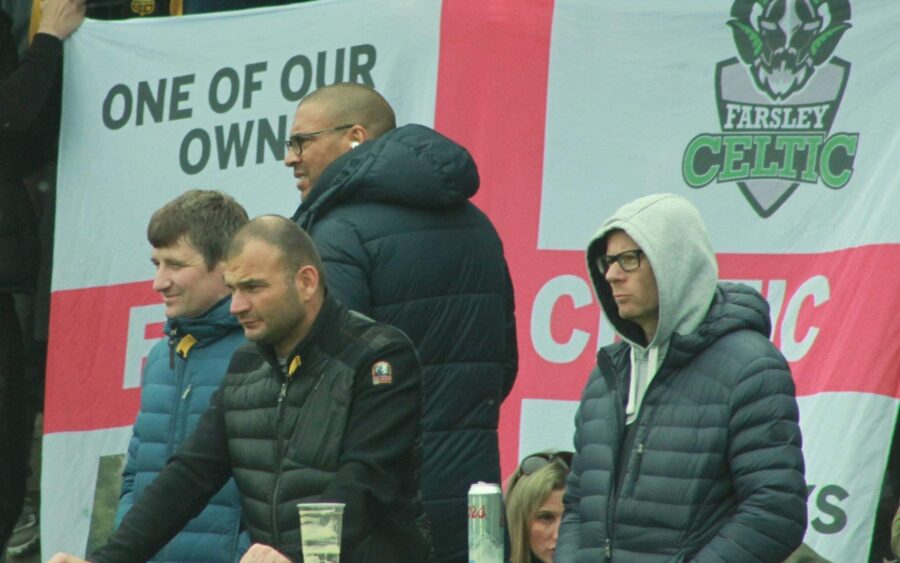 Line-ups
FARSLEY: Robson, Digie, Atkinson, Clayton, Syers (Greaves 32), Gratton, Turner, Spencer, Hayhurst, Mulhern, Parkin; Subs (not used): Trenerry, Drake, Ingham, Malumo.
PILGRIMS: Dewhurst, Duxbury, Garner, Shiels, Green, Wright jnr (Massanka 30), Elliott, Wright snr, Abbott, Byrnbe, Seriki; Subs (not usded): Thanoj, Ferguson, Preston, Sault.
Man of the match: Jimmy Spence.