A crowdfunding campaign aims to raise £20,000 to help a three-year-old girl attend a clinical trial in America to treat a rare condition which causes lost mobility and speech.
Parents Christine Hamshere and Steve Lightfoot are raising money to take daughter Zoe to America to take part in a clinical trial of a drug which they hope will halt and possibly reverse some of the symptoms of the genetic degenerative neurological condition.
Zoe, who also has problems swallowing, is one of only 15 children worldwide to be accepted onto the US programme after NHS doctors admitted there was nothing they could do to improve the toddler's condition.
The crowdfunder has so far raised more than £5,500 in just a few days.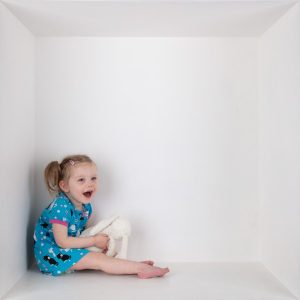 Mum Christine, of Moorland View, Rodley, said Zoe has been diagnosed with Infantile Neuro Axonal Dystrophy (INAD). Children with the condition usually live until between the ages of five and ten years old. She said:
"We have been told there is no miracle cure. The NHS have been fantastic, but all they can do is support Zoe as her symptoms persist.

"She is still a bright bubbly fun-loving beautiful girl. She has a great sense of humour, an infectious laugh and still tries to wave and blow kisses. She has a good understanding of what is going on around her and loves it when you copy her actions and sounds, especially drumming.

"Zoe loves bouncing along to songs and interaction with others, cuddling the neighbour's dog and her toy rabbits. She has a smile that lights up the room. We are desperate to keep her this way for as long as we can."
Christine and Steve approached a drug company in America that are developing a study drug to help children with INAD. The first trip is at the start of December. The second will be in January 2019.
The family will need to make a financially crippling four trips in a year as part of the trial, and then potentially ongoing after that.
Christine, who is also 22 weeks pregnant, said any funds not spent on going to the US will go towards adapting the house for Zoe, transporting her to school, and supporting all the charities currently helping the family.
INAD is a gene variation that causes cell damage when fatty acids are broken down. The study drug is a stabilised fatty acid that protects cells from being broken down. In initial trials the study drug stopped the decline in patients and returned some lost skills.
Zoe used to attend Rodley Playgroup and attended swimming lessons at nearby Bramley Baths as a baby.
The crowdfunder can be found here.