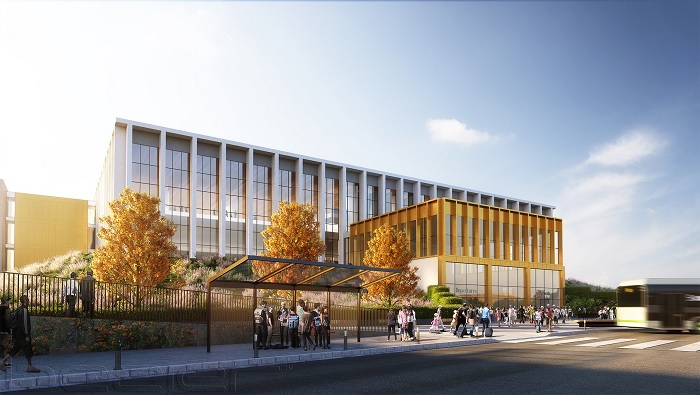 Leeds Bradford Airport's £150 million plans to revamp its terminal will have an impact on the whole of the city, including West Leeds. Here, Local Democracy Reporter RICHARD BEECHAM looks at both the support and opposition to the scheme …
Opposition rallies against airport plans
Environmental activists and local campaigners have joined together to oppose plans to increase capacity at Leeds Bradford Airport.
Campaigners say the airport's planned £150m revamp would increase the allowance of flights early in the morning and late at night, which could impact on the lives of those living nearby.
Environmentalists also claim the increased number of flights would contribute to climate change, adding that the projected increase to seven million annual passengers in the coming years could use up the council's entire 'carbon budget'.
Detailed plans for the airport's £150m revamp were submitted to Leeds City Council and published online earlier this month.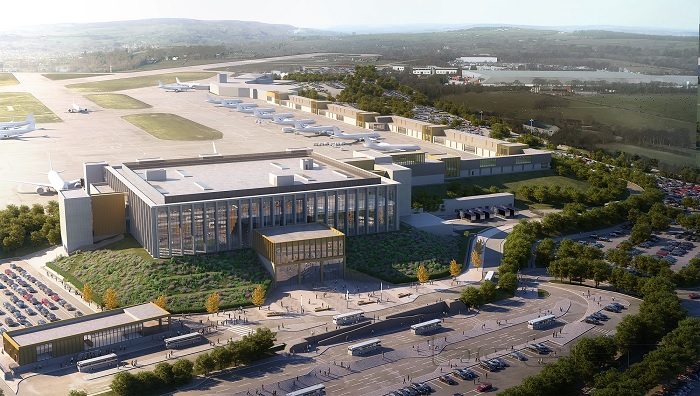 The plans include a new three-storey terminal building, close to the proposed Leeds Bradford Airport parkway rail station, and are expected to be up and running in 2023.
The proposals also include increasing allowed daytime flight times from 7am-11pm; to 6am-11.30pm.
The plans are set to be decided by a panel of planning chiefs in the coming months.
The Group for Action on LBA (GALBA) claims the plans don't account for the forecasted increase in greenhouse gas emissions and the impact LBA's flight times will have on local people.
Chris Foren, chair of GALBA, said:
"The proposed expansion flies in the face of the council's climate emergency they announced last year.

"In our view it would be wrong for the council to accept this application. If passengers increased to 7 million, as predicted, Leeds would use up its entire carbon budget on just the airport.

"Flight times would also increase by an hour and a half each day. People living around the airport will have more disturbed sleep."
Business and tourism experts claim the airport would help the region compete economically and could subsequently help create jobs in the area.
Mr Foren said:
"There may be a marginal difference, but we can't go on sacrificing our environment for economic growth."
Some Leeds residents have also started a letter-writing campaign following the submission of the planning application.
Roundhay resident Caleb Elliot said:
"Regardless of that I would like to object to the Leeds Bradford Airport expansion on the grounds of increased noise, air pollution, traffic, and greenhouse gas emissions.

"[The expansion] will produce more noise pollution – LBA wants to extend flying times by 90 minutes, starting at 6am and finishing at 11.30pm – there'd be roughly one flight every six minutes.

"The climate damage will be amplified- LBA's expansion would double its greenhouse gas emissions in the middle of the climate emergency."
Otley resident Sarah Mumford said:
"The consultation period must be extended if at all possible. There are 200 documents to read.

"As someone living under the flight path the increase in flight times for me is unacceptable. I have really enjoyed the peace since flights stopped due to corona virus and am now sleeping a full eight hours – which is just not possible when flights roar in to the air from 6.30am and hopefully not from 6am in future too."
Environmental campaign group Extinction Rebellion held a protest on Thursday outside Leeds Civic Hall in order to put pressure on planners to reject the blueprints.
Extinction Rebellion member and Leeds resident Christopher Hoare, said:
"It's important we get out our message peacefully. I want the message to go to the councillors – we want to put the pressure on them.
"The economic predictions for growth were all submitted pre-Covid-19 – it makes them irrelevant now.
"I would like to encourage people to get in touch with their local councillors – it's the biggest way we can now have an impact."
 Local councillors have also involved themselves, with Horsforth ward councillors Jackie Shemilt, Jonathon Taylor and Dawn Collins submitting a letter to the council's planning chiefs objecting to plans to increase flight times. It stated:
"We appreciate that the Airport has considered its significant impact on the environment and have developed their plans to address this within the grounds of which it has control. The proposed changes to daytime flying hours, however, make this application impossible to support.
"Presently in the summer, flights start before the 'daytime' hours (7am to 11pm) as the airport takes advantage of its 'night-time' allocation and flights begin around 6am in the summer.
"We, as Horsforth Ward Councillors, and residents we represent are concerned that if the daytime hours are extended and the night time hours remain, the effect will be that flying will actually start around 5am or potentially even earlier."
 In a statement released earlier this week, a Leeds Bradford Airport spokesperson said:
"We always value feedback from members of the public and interested groups and we have consulted extensively both with interested members of the public and environmental experts to ensure that our plans create an efficient replacement terminal for the future.

"We cannot deny that infrastructure is a long term investment that generates long-term prosperity, regional economic growth and jobs for the future, and we are confident that air travel will continue to form an essential part of our region's infrastructure in the future."
They claimed that the plans were done to a high environmental standard, adding:
"Our plans include the proposal to build one of the most sustainable airport buildings in the world of BREEAM standard, only awarded to the most efficient buildings globally.

"As part of that commitment we have worked with leading experts to determine the best approach and have formulated proposals based in fact that demonstrate impact on noise will be minimal.

"We take our environmental responsibilities seriously and are working in collaboration with our airline partners to minimise the impact of their operations on the environment.

"Our replacement terminal will allow us to also meet the demand for seven million passengers in a more efficient way, and we have been very clear in our proposals that flights will not double.

"We are committed to supporting regional prosperity, while continuing the progress we have already made to reduce the airport's impact on the environment through the proposed development of a high-quality and sustainable replacement airport terminal."
Business and tourism chiefs welcome plans
Organisations representing regional businesses and tourism have come out in support of £150m plans to revamp Leeds Bradford Airport.
The heads of both tourism agency Welcome to Yorkshire and the West and North Yorkshire Chamber of Trade have claimed the economic impacts of the planned new terminal and flying times at LBA could massively benefit the economy.
It follows recent protests against the plans from both environmental activists and local campaign groups, who claim the potentially increased number of flights could blight the lives of those living nearby and contribute towards climate change.
Detailed plans for the airport's £150m revamp were submitted to Leeds City Council and published online earlier this month. They include a new three-storey terminal building, close to the proposed Leeds Bradford Airport parkway rail station, and are expected to be up and running in 2023.
The proposals also include increasing allowed daytime flight times to between 6am and 11.30pm.
Welcome to Yorkshire Chief Executive James Mason said:
"Welcome to Yorkshire's future strategy is to attract people from all over the world to live, work and study in the region.

"Any future opportunities to attract people to the area, to have an airport expanding and competing with Manchester and others is something we would be all for.

"We want to attract big events to Yorkshire. The whole tourism economy in Yorkshire is worth around £127bn per year, with £39bn of that coming from overseas.

"If we were to lose that, this would be a huge loss for us.

"LBA's idea of modernising the terminal will improve the passenger experience."
He added that concerns about the environmental impact of the facility were valid, but added that the facility itself would be environmentally friendly.
He said:
"We have to be acutely aware of the environmental impact. I am aware of the impacts – I live only a few miles away from LBA, so it will affect me directly, but I appreciate with have to keep pace with the rest of the world.

"I appreciate there are always two sides of it – they are looking towards it being an environmentally friendly terminal.

"The impact of air travel in terms of our own carbon footprint is a concern, but we need to compete in a new world – I can take on board all sides of the argument."
The Group for Action on Leeds Bradford Airport (GALBA) recently threatened legal action to stop work taking place at the airport, claiming the plans directly contradict Leeds City Council's climate emergency policy, as the increase in flights and traffic would add to CO2 emissions and noise in the area.
A Leeds City Council meeting discussing early forms of the plans back on January 30 was suspended for 20 minutes due to protests from climate campaigners calling on the airport to reduce its number of flights.
Mark Goldstone is head of the West and North Yorkshire Chamber of Commerce, which represents the interests of businesses in the region.
He agreed some of the environmental issues are at the forefront of people's minds, but added research was being done on cleaner aviation alternatives.
"The plans for the new terminal is to make them more efficient," he said. "A lot of people from our region take flights from other airports – we need to take ownership of that.
"The aviation industry also needs to come out more about what it is doing to improve the carbon footprint of flying."
Mr Goldstone believes accessibility is the key for businesses based in the region, and those investing from elsewhere. He added:
"The main reason is international connectivity with a good link to Heathrow Airport – this will allow people to travel to other parts of the world.
"We also need to see more connectivity to business destinations such as Brussels, Paris and Germany – those connections are important for businesses.
"We need to make it as convenient as possible to connect businesses to destinations – we have foreign-owned companies in our area as well. If you are looking to sell the region to international investors, if it's hard for them to get here in the first place, they are going to think twice about putting down roots in the region.
"This is a great place to invest, but if it's impossible to get here, that would be a weakness in our armour."
He also claimed there would be less of a need for more capacity for domestic air travel if Britain had a better high speed rail system in place.
"If you were going to have a meeting in Glasgow at 10am and you were travelling up from Leeds by rail, you would have to stay overnight," he said.
"This is why projects like Northern Powerhouse Rail and HS2 are so important."
Current terminal 'dated and inefficient'
Plans for Leeds Bradford Airport's £150m overhaul were submitted to Leeds Council earlier this month.
It claimed a 'state of the art' terminal being would include three main floors with improved vehicle access. It would also be closer to a proposed parkway rail station, announced by Leeds City Council last year.
The airport hopes for work to start on construction of the site by the end of this year, and for the new terminal to be up and running by 2023.
The application claims the current terminal is 'dated' and 'inefficient' and that the airport could lose passengers to nearby Manchester Airport unless the improvements are approved. It said: 
"There are clear environmental benefits in improving the existing infrastructure at the Airport.

"The current terminal is aged and has been the subject of a series of extensions since it was first built in the 1960s, which has resulted in a dated, and inefficient operation, which compromises its environmental integrity.

"Opportunities to improve the existing terminal's environmental performance are limited.

"In contrast, replacing the terminal building with a new "state of the art" building, capable of meeting the needs of the modern day passenger and designed to an exemplary environmental standard, will create strong foundations for a highly sustainable future of the Airport. In summary, it is demonstrated in the application that there is a clear need to improve the Airport's operations, both from an economic and environmental perspective."
It is hoped the planned expansion could see expecting seven million passengers per year by 2030.
The planning application went on to state that the developments would add £400M a year to Leeds and the surrounding area's economy, and would 'support' nearly 9,000 jobs.
The planning application – and more than 200 documents – can be read in full here.