By Emma Roberts
Villagers in Calverley are opening up their drives for a giant community garage sale, which will raise funds for a local school.
On Saturday, 25 June 2022 Calverley residents will sell their pre-loved items in a giant village-wide garage sale.
It's described by organisers as: "A good old fashioned sale, where folk put up stall outside their own home and everyone walks around the village checking out stalls, buying food and stopping to chat."
This is the first sale since the pandemic started and is happening on between 11am-3pm. Organisers are going all out to make it a memorable event, by adding a summer fair, too.
Calverley Parkside school playground will be open all day there will be hook-a-duck, tombola, a barbecue, face painting and you may even get to dunk headteacher Alan Steele in the water tank. If that's not entertaining enough Calverley choir will also be there!
Local businesses are on board, including the the post office where you can buy a map of the participants on the day. Sponsoring the event is Calverley Autos and Calverley St Wilfrids Cricket Club, which will also be open on the day for drinks.
The community spring clean garage sales started back in 2012 as local schools were thinking about new ways they could fundraise. The event now runs bi-annually, and this year is being organised by the Friends of Calverley Parkside school parent teachers association (PTA).
Laura Jones, head of Calverley Parkside PTA, also works at the school so knows exactly what is needed and how the funds will be distributed and spent.
Residents pay £10 to book a space and feature on a map that shows buyers where their stalls are, then on the day put a stall in their driveways or open their garages up to sell their to unwanted household items. On the day people go to the school playground or post office to collect a garage sale map showing you which houses have stalls outside.
If you want to book a space this year or in future why not follow their Facebook page.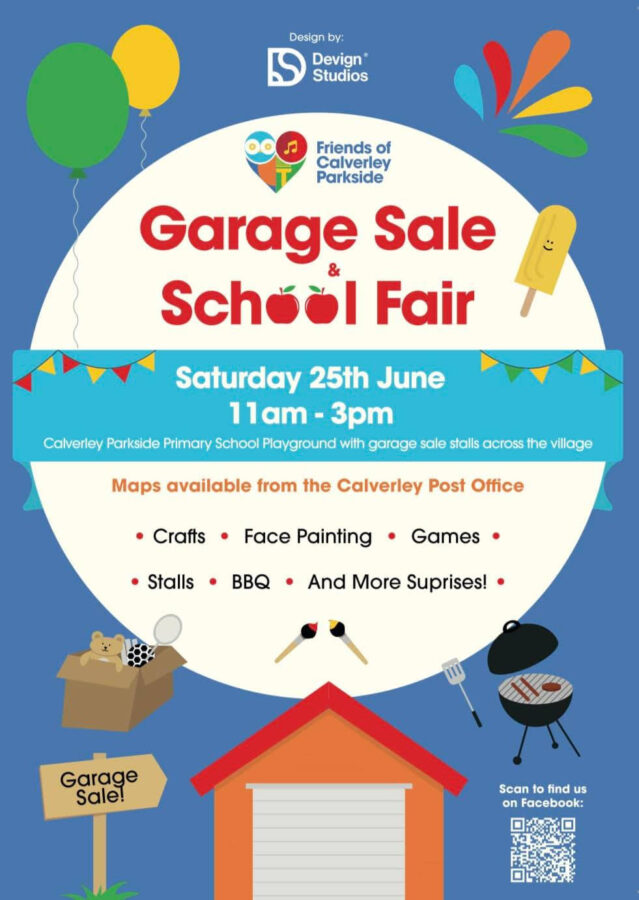 Laura said it was not until she worked in a school herself that she realised just how much budget cuts have negatively impact schools who are now working within very tight budget constraints.
Laura sees the reality of what happens within the school and is able to make sure that the money goes to areas of need.
Funds raised from past garage sales have paid for books, iPads and laptops which were used during Covid lockdown for home learning, sports equipment and music lessons.
Business owners can sponsor future events and help by donating a gift to the tombola.
Previous events have been so successful with people travelling from far and wide to visit the village and bag a bargain, that residents in neighbouring Farsley are already discussing a similar community event for their own village, so keep an eye out for that too!
Sponsored content