Bramley War Memorial, a focal point for West Leeds' remembrance of the fallen, has won a prestigious award for its stunning and poignant architecture.
Volunteers John and Fran Barker, from Rodley, attended a glittering ceremony to pick up the John Thorp Award at the 26th Leeds Architecture Awards in Leeds Town Hall.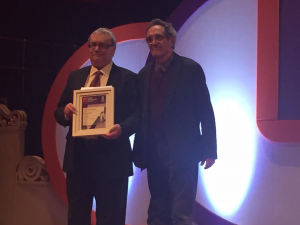 Mr and Mrs Barker picked up the award from former Leeds Civic Architect John Thorp, who had provided inspiration, guidance and a listening ear to the Friends of A War Memorial for Bramley Group.
The War Memorial was opened in 2014 following a campaign supported by the Friends of Bramley War Memorial group, local businesses and councillors.
The memorial is inscribed with 741 names from World War One, World War Two and later wars and conflicts.
Councillor Caroline Gruen (Labour, Bramley and Stanningley) is the chair of the Friends group. She said:
"The Bramley War Memorial is a fitting tribute to the hundreds of local servicemen and women who have served in our armed forces over the past hundred years.

"John Thorp's support helped unlock the spirit of remembrance and his approach meant that we were able to win over hearts and minds to the design- which is very modern but also very fitting. We still pinch ourselves when we look at our memorial to know what a positive impact this is having on our community.

"We've now had a number of services of remembrance at the memorial and we know how well it works to bring the community together. This award just shows again that all the meetings, preparation and hard work to get the finances together were worth it."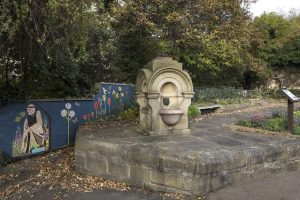 The Drink and Be Grateful Fountain, which is looked after by the Kirkstall in Bloom group, and Bramley War Memorial were both shortlisted in the 'public art and landscape design' category but did not win.
And Pad 71, a chic showroom selling wooden furniture on Commercial Road in Kirkstall, was shortlisted in the best conserved building category.
Big city centre developments such as Victoria gate and Sovereign Square won top awards on the night,