Words: John Baron
Campaigners lobbying for all 22 removed benches to be reinstalled at Bramley Shopping Centre have held a spooky Hallowe'en sit in to get their points across.
Members of the A Place to Sit campaign braved the wet weather and came dressed as ghosts and witches at their 18th weekly sit-down protest.
Every Saturday for almost five months, the group's members have protested by taking their own seats to the centre while calling for all the benches to be reinstated.
LCP, the national commercial property and investment company that manages Bramley Shopping Centre on behalf of the landlord Sheet Anchor, originally removed the benches in June, labelling them an "obstruction".
In September LCP put eight benches back in different locations, but protesters say several were unusable and they had not been installed throughout the centre as they had been previously.
Here are some photographs from yesterday's sit-in: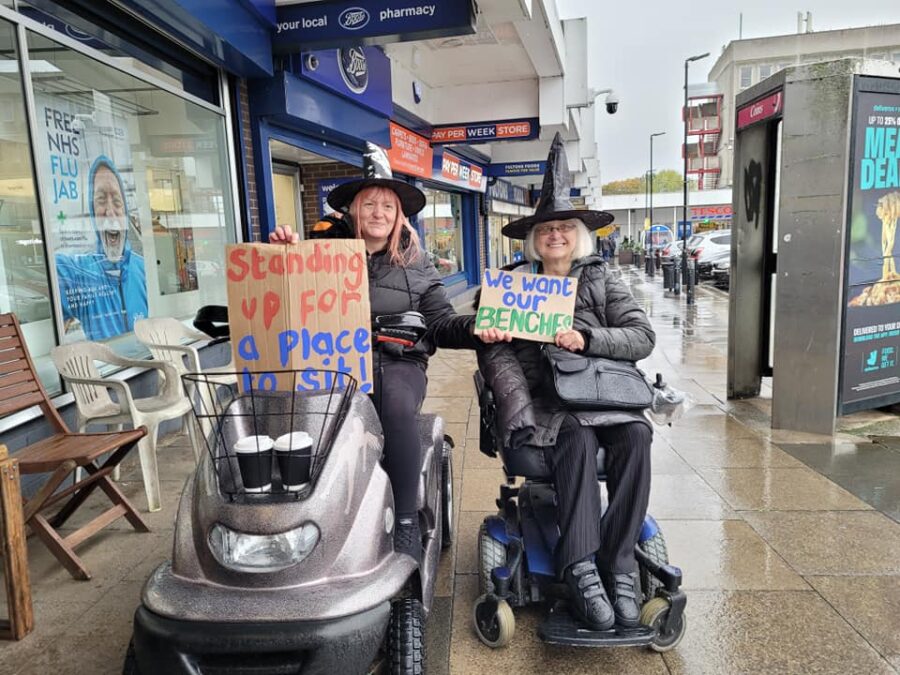 More than 1,700 people have so far signed a petition to get all the benches reinstated. Bramley councillors and Leeds West MP Rachel Reeves are due to meet with LCP managing director James Buchanan to discuss their concerns, as well as their plans for Bramley Shopping Centre.
As revealed by WLD in September, Leeds City Council has asked the owners to reinstate the benches, saying their removal contravenes a planning application dating back six years.
Campaigners are also planning to take a deputation to address all 99 councillors about their concerns at a full meeting of Leeds City Council next month.
A Place to Sit campaigners are continuing to hold a weekly sit-in from 10am-11am every Saturday at Bramley Shopping Centre.
Follow WLD's ongoing coverage of this issue here.
Also, plans have this week been submitted for a change of units from retail to dentistry at 6 – 9 Bramley Shopping Centre. The applicant is MyDentist.