Hundreds of people from Bramley, Stanningley and Rodley fell silent as part of a moving service at Bramley War Memorial.
Here are some photos from the day from Roy Wilson, Friends of Bramley War Memorial.
While proceedings were by the Church of England, other churches and other faiths were be represented through the Leeds Jewish Representative Council and local Mosques as a reminder that people of all faiths fought and died in the name of their country.
The focus of the service was on reminding those present of the terrible cost of war through the stories of service personnel from the Bramley area who died on 8 November in both world wars.
Clarence Wigglesworth, from Rodley, died early in the war on 8th Nov 1914 in the first battle of Ypres. Clarence was the first Rodley man to be killed in WW1 and his son, Cyril, was the first Rodley man to be killed in WW2 on 31st May 1940.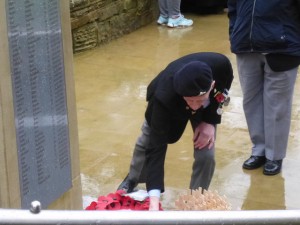 William Lawton died on 8th November 1918 – only three days before this dreadful war ended. William was 23 when he died, as was his brother Ernest, who was killed on 8th April 1917 at the battle of Arras.
Joseph Marsden died on 8th November in 1942, in Libya. Sadly, his brother Alfred had already been killed on 12th July 1940.
Cllr Caroline Gruen was one of the people who campaigned to get a war memorial in Bramley. She said:
"The Remembrance Day service at the memorial was incredibly moving and a valuable opportunity for people to come together locally to show their respect for those who gave their lives to protect this country and the freedoms which we enjoy today.

"Sadly around 630 people from the Bramley and Stanningley lost their lives in the service of their country and this was the perfect opportunity to reflect on that as a community."
A moving service at @BramleyMemorial for Remembrance Sunday with many veterans and families. @PoppyLegion pic.twitter.com/Difx5a8JBM

— Rachel Reeves (@RachelReevesMP) November 8, 2015
Similar services were also held in Armley, Calverley, Farsley and Pudsey.