By John Baron
Bramley Mermaids are hoping to make a splash with a smile on their faces as they celebrate their tenth anniversary year.
The Mermaids club brings women of all ages, backgrounds and abilities together for a fun creative swimming and water dance class once a week. They learn new routines inspired by synchronised swimming techniques and vintage Hollywood film. 
It was set up the same time Bramley Baths moved from being run by Leeds City Council to becoming a community led social enterprise – and it's welcoming new members to join the fun.
Sophie Abbott has been attending the Mermaids since 2021 – and bizarrely her first sessions weren't in the warm waters of the Grade II Listed Bramley Baths but on computer via Zoom video.
"I joined during lockdown and I love the water," explained Mermaid Sophie. "Not only is it great exercise but they're also a great group of girls who make you laugh and you can forget all your problems. It's good, silly fun and there is a lot of laughter in the pool."
Emma Sykes joined the group in 2014 and still remembers her first performance. "I was excited when we did our first performance in the pool ing front of a crowd. We were all new and we had spent hours practising but had never done it in front of people before. I have always loved being in the water, but found doing lengths really boring."
Other highlights for Emma are travelling to Brighton in 2019 after being invited to take part in a synchro-spectacular as part of the Brighton Fringe. "We were able to come out of Bramley and reach new audiences in other parts of the country," Emma added. "It's something we'd like to do more often."
For Lorraine Sanderson there is a real team spirit involved – and it's not only about the swimming and creating and taking part in the Busby Berkley-esque routines it's about getting away from everyday life and is a boost to your mental, as well as physical, wellbeing.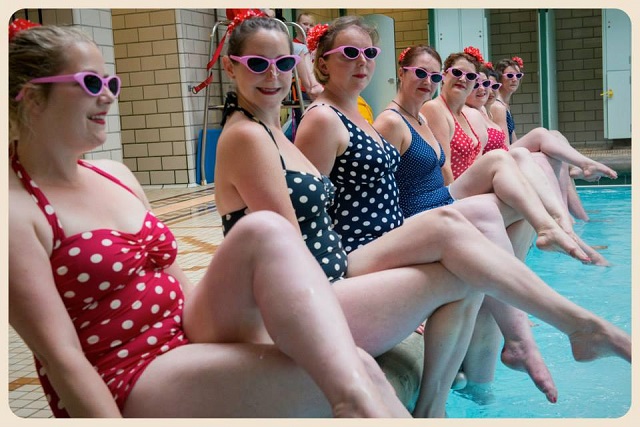 Former competitive synchronised swimmer Lucy Meredith said people don't need any experience of synchro or water dance – just a sense of fun and adventure.
"It's a great way to relax, learn new skills in the pool and practise the basics of synchronised swimming with a friendly group of women," she said.
The friendly group works together to create performances for special events at Bramley Baths and have taken their work out to other swimming pools, including Manchester's Withington Baths – another community-led leisure centre.
The club is open to all abilities and is open to females aged 12 years and over. They rehearse on Sunday afternoons at Bramley Baths and more information can be found by e-mailing bramleymermaids@gmail.com or finding @bramleymermaids on social media.
Sponsored content