Bramley Baths' chimney has been a landmark on Broad Lane since the facility was built back in 1904. The baths has been a community-led social enterprise since 2013 and here ANNA RILEY reports on how people power is helping it go from strength to strength.
Bramley Baths is a community-led centre for fitness within a beautiful Grade II listed building and includes a gym, swimming pool, a Russian steam room and space for community events, meetings and fitness classes.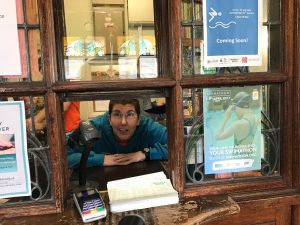 The baths are now in their 112th year and first opened as a pool and public bath-house in 1904, enabling local residents to bathe, swim and socialise.
The baths were threatened with closure five years ago due to council budget cuts, but the community decided to step in to save the much-loved facility.
Following a successful bid from the community, in January 2013 Leeds City Council transferred running of the baths as a social enterprise into the capable hands of local residents.
Since then, the people of West Leeds have proudly supported the baths, meaning that since the take over the baths have thrived.

The baths form a core of the community for people to meet, chat and get healthy, as well as providing employment opportunities and fun events such as a water cinema, underwater Easter egg hunt and a dance show.
In addition, staff at the baths teach children how to swim and even provide a volunteer-run garden for residents to help themselves to vegetables.
Chief executive Tracy Basu heads up the baths, reporting to a Board of Trustees. She said that the philosophy of the baths is all about being a community hub and encouraging people to work out together and enjoy the facilities:
"Residents and schools in the area helped to save the baths. Since the community took over, the baths have gone from strength to strength.

"The opening hours have been increased to 100 hours per week and we are now helping 1,000 children learn how to swim as part of our private lessons programme – that's 600 more children that are now swimming since we took over.

"As well as helping children, we also like to put on a lot of fun events for the community."
Tracy said she was well aware of the Baths' position at the heart of the community.
"We are really proud of the history of the baths and there have been history projects where we have documented the bath's past and the people who used to come here.

"There are some lovely stories of couples meeting here and going on to bring their children and even grandchildren to the baths.

"The pool was even covered over during wartimes and used as a dance hall for residents to enjoy."
Tracy encouraged more people to go down and visit the baths and said:
"No matter how young or old you are, we have got something for you. Come start a fitness journey and meet people – you can even learn how to train for a triathlon if you are interested. The baths are for everybody."
Alex Wilson, a lifeguard and fitness instructor at Bramley Baths, has progressed his career through working at the Baths. He grew up in the area and started off working at the baths part time for a few hours per week while at college and then went on the work for the baths full-time after qualifying as a fitness instructor.
He said:
"I really enjoy working here. It is great to get to know people in the community.

"I have been given opportunities to progress working here and have really seen my skills grow including being given the responsibility of teaching indoor cycling."
Listed Bramley Baths is the last open survivor of eight pools built by Leeds City Council from 1899.
The baths are open seven days a week from 7.30 in the morning until 10 at night and swim classes are available as well as a general swim.
Any green-fingered volunteers to maintain the community garden are also always welcomed.