It's impossible not to be moved by the tributes which currently lay outside Bramley St Peter's Church.
There's a simple but heartfelt message on one of the many cards outside which sums up Bramley's current sense of loss. It reads:
"Rest in peace sweet baby boy who never had a chance to see the world, the angels will take care of you now. RIP from a member of the Bramley community xxx"
The message, left by a stranger, refers to the loss of an unnamed baby boy, found after being left outside the Hough Lane vicarage in a supermarket carrier bag last Wednesday. It's believed he'd been left there in a Tesco shopping bag shortly after being born.
Police efforts to find the baby's mother are ongoing.
As I stand looking at the myriad of messages, cards and flowers left outside the church a young mum from Bramley comes up with her own daughter, who is barely a toddler herself. "Put the teddy there to remember the baby," the mum says, with the young girl duly obliging. The tragic events have touched people of all ages and backgrounds and genuinely brought people together.
"It's so sad," says the mum. "That baby never had a chance of life. What that mother must be going through… I can't imagine …"
Other messages left outside the church include a 'prayer for the Bramley baby, and his mum'. Signed by 'residents of Outgang Lane', it reads:
"No-one can really know that poor
Mother's state of mind,
So before any of us judge, we
Should try to be kind
We are all capable of being the
Judge, when we don't know
Whether a mental illness has struck
That does not show
Tonight we sit in our homes, safe
Comfortable and warm,
Let's pray for a human being, that's
Suffering an emotional storm.
The poor baby's in God's hands, Many hearts are broken,
We must choose wisely in our kind
Prayers, the words now spoken
Please God help this woman to find
The help she desperately needs,
And help us all to understand what
Has happened in Bramley, Leeds."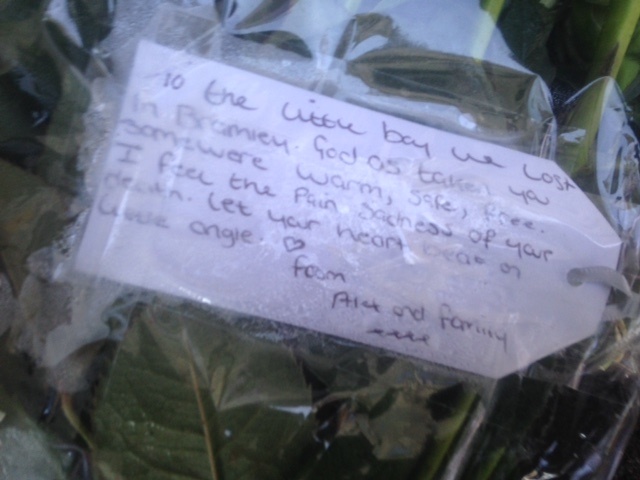 Another letter reached out to the baby's mother:
"I can't imagine your pain, just know that there is help for you. Please just reach out to someone.
I am so sorry for what you are going through but please be strong, take every day one at a time. You are in my thoughts and prayers, take care xxx"
Rev Paul Crabbe, the vicar who found the baby, left a note outside church thanking everyone for their donations of cuddly toys. He said he'd gathered many of the toys in so they didn't get ruined by the weather and that they'd be donated to a local children's charity.
Rev Crabbe, who led a service of remembrance on Friday, added:
"We hope that you feel we have treated your gifts with respect and that this is an appropriate way to share these tokens of your love."
As Bramley continues to mourn a week on from the baby's passing the tributes and grief felt by the community is still tangible. There's also talk locally of having a plaque made to remember the baby.
The tragic death of the unnamed baby has brought Bramley together under the saddest of tragedies.
It's clear that the baby will live on in people's memories for many years to come.