Three sites in West Leeds have been earmarked for pedestrian crossings or refuges in a bid to tackle road safety concerns.
A council report recommends eight schemes be approved across the city at a cost of up to £255,000, subject to local consulation.
Schemes in West Leeds include Coal Hill Lane (on the border of Bramley and Farsley), Robin Lane in Pudsey and Leeds and Bradford Road in Bramley.
Coal Hill Lane – Bramley
A zebra crossing is recommended to help children attending Valley View and Summerfield Primary Schools and Leeds West Academy.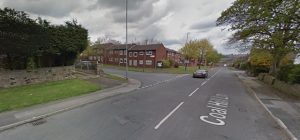 A council report says:
"Historically, there used to be a school crossing patrol on Coal Hill Lane located to the west of the junction with Coal Hill Drive; however, the position has been vacant for some time and is proving difficult to fill.

"The area has two bus services operating, one of which is high frequency… Surveys confirm there is large numbers of children crossing at this location."
Robin Lane, Pudsey
A zebra crossing and minor junction alteration is proposed in Pudsey town centre.
The report says the crossing would be close to Pudsey Market and on a pedestrian route that links key public car parks to Pudsey Town Hall and local amenities. It adds:
"To date there have been a total of three slight pedestrian related accidents in past five years at this location.

"The provision of a formal crossing would provide improved connectivity within Pudsey district centre for a location that experiences exceptionally high crossing numbers including specific documented demand from older people and children; however, it does require alterations to the junction with Manor House Street in order for it to fit on site."
B6157 Leeds and Bradford Road, Bramley
A pedestrian island is recommended for Leeds and Bradford Road. The report adds:
"The site is on a route to school so the majority of pedestrians are children and there is a clearly defined desire line that connects the adjacent residential estates."
Council officers will now start the detailed design, consultation and implementation of the schemes.
The full report into all the schemes can be read in full here.