For more than a century it was a tried and tested piece of West Leeds engineering that helped keep the proud story of Yorkshire's railways on the right track.
And even in retirement, Leeds Industrial Museum's stalwart crane had one last uplifting tale to tell after grabbing the imagination of a West Leeds business.
Representatives from Pudsey-based firm Wellman Booth visited the museum in Armley Mills to donate a miniature replica of the historic crane as well as a series of eye-catching illustrations by renowned artist Helen McKie, depicting the efforts of local wartime munitions workers.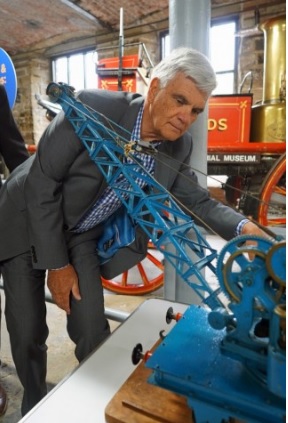 The generous donation was sparked by a recent museum project working with volunteers to restore and conserve the museum's railway hand crane, which was made back in the 1880s by one of Wellman Booth's forerunners Thomas Smith and Sons of Rodley.
Along with Rodley-based Joseph Booth and Brothers, the company helped the city build an international reputation for making cranes which were used across Britain and around the world back in the 19th Century.
John McGoldrick, Leeds Museums and Galleries' curator of industrial history, said:
"The history of our railways is dominated by engines and locomotives for obvious reasons, but cranes like ours played a crucial role in keeping the industry moving, literally doing the heavy lifting so that companies across the UK could flourish.

"More importantly, they're an example of how much Leeds became a centre for engineering excellence, setting the standard for reliability and efficiency and building a reputation which would last for more than a century."
The model crane, which will now be displayed at the museum, was made by a former Joseph Booth and Brothers employee Frank Midgley, a keen modeller who worked in the firm's tool room from before the 1950s.
The Helen McKie illustrations were commissioned by Joseph Booth and Brothers and show munitions workers, including women, making shells at the Rodley factory during World War Two.