A residents' action group tasked with transforming the fortunes of Armley Town Street has come up with an eight-point plan to improve the area.
Members at last night's Armley Forum meeting heard how the All Together Armley Group was already helping to turn around the fortunes of the area.
Leeds City Council area officer Kate Sibson told the meeting that the group had been meeting regularly since being formed following a public meeting into the future of Town Street held by Leeds West MP Rachel Reeves last year. The area had been beset by problems surrounding anti-social behaviour and street drinking.
Residents last night saw a provisional eight point plan drawn up by the All Together Armley group welcomed by Armley Forum members meeting in Armley Library.
Ms Sibson said:
"The group has been very positive in tone about some of the changes they want to make. They want to keep as many local residents involved as possible and want to look at what solutions and actions there could be to reclaim Town Street.

"There has been a lot of criticism of Town Street and the group wants to look forward to the future."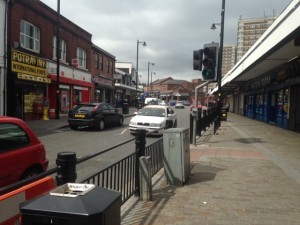 The initial plan All Together Armley has put together includes:
1. Everyone should feel safe and able to walk down Town Street
Pointers include the need for more confidence in the police, the need for a single port of call to report crime and anti-social behaviour , more power to remove street drinkers
2. Problem drinkers should permanently excluded from Town Street
Outreach work should continue on Armley Town Street, a multi agency task force to assess and work with vulnerable people who street drink should be set up, more court injunctions served on street drinkers and existing injunctions should be enforced with as much severity as legally possible.
3. Alcohol should not be readily available to street drinkers
Existing off licenses should take more responsibility when it comes to serving well-known street drinkers, police and the council should be proactive in highlighting illegal practices, there should be a control on the number of off licenses on Town Street, similar to the ones in Chapel Allerton and Headingley.
4. Armley should rival other areas of Leeds in aesthetics and appearance
This includes setting up an Armley in Bloom scheme, local business should be encouraged to fund floral displays, local councillors should provide funding to improve the appearance of Town Street as they see fit.
5. There should be zero tolerance on vandalism, fly-tipping and graffiti
The probation service should assist LCC in the removal of graffiti, police to be more pro-active in terms of prosecuting offenders and local businesses should take more responsibility for their refuse.
6. There should be a change in culture on how we expect others to treat Town Street
Through education on local –primary schools and working with Armley Common Rights Trust to organise litter picks
7. There should be a campaign to encourage people to use local businesses more
8. Different cultural groups in Armley should be brought together more often
The community should reclaim the space of Armley Town Street, the possibility of holding a street market should be explored, there should be a performance and activity space at corner of Carr Crofts and Town Street and there will be representatives from Armley Mosque and other cultures on the membership of All Together Armley.
There is also talk of a local traders' forum being set up.
Feedback from the Armley Forum to the above pointers was largely positive, with one elderly couple suggesting traffic and crossing problems on Town Street should be looked into.
The All Together Armley group is supported by a council officer and Armley ward member Cllr Alice Smart.
What do you think to the plan? Have your say in the comments below.