The Abbey Inn in Bramley hosts its annual beer and music festival this coming weekend, and is once again raising funds for Leeds homeless charity St George's Crypt, writes Jill Buckley.
The festival will be officially opened this Friday at 6pm by the Lord Mayor of Leeds Councillor Jayne Dowson.
Cllr Dowson said:
"It is wonderful to have been invited to the annual Abbey Inn Beer and Music Festival. They raise hundreds of pounds every year for St Georges Crypt. I am looking forward to listening to the varied music and who knows may also sample a few of the local beers on offer."
One hundred beers and ciders will be available and 25 bands are playing over the three days of the festival. The first band is at 6pm on Friday June 30th, with bands starting at 1pm on Saturday the 1st and 12pm on Sunday, July 2.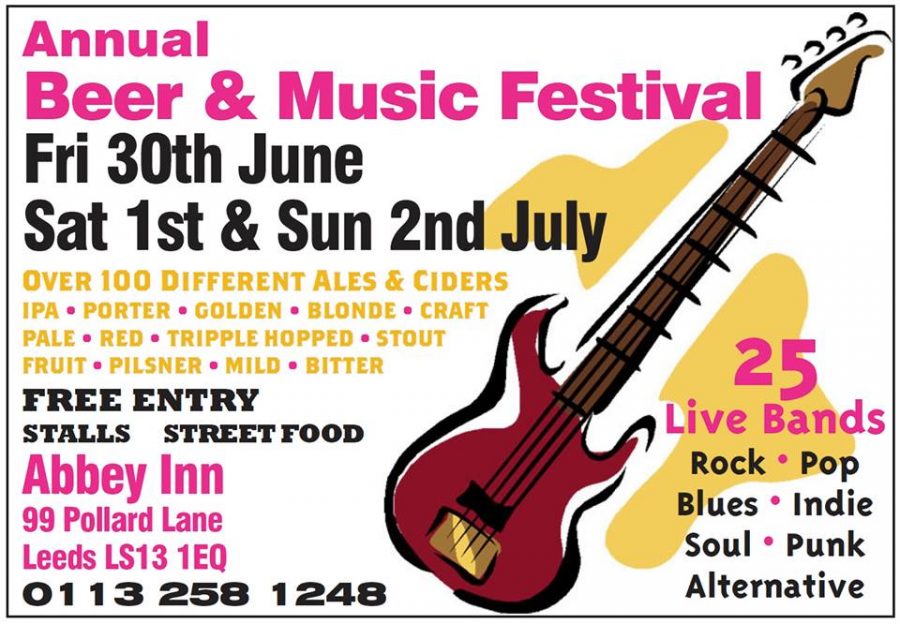 The list of bands offers a wide range of different types of music to appeal to a large number of visitors. There will also be stalls and street food. Information regarding the beers available and the bands playing is available on the Pollard Lane pub's Facebook page.
Martin Lockett, manager of the Abbey Inn, said:
"We are looking forward to welcoming everyone to our annual beer and music festival this weekend and having the opportunity to support a great local charity at the same time.

"We're very proud to continue to offer our support to St Georges Crypt once again through the event. There is no charge for entry so we do encourage people to give as much as they can afford as a donation towards the Crypt."
Danny Kennedy is a housing support worker at St George's Crypt. He said:
"We are very happy that the Abbey Inn has once again chosen to support our work at St Georges Crypt and we hope to improve on last years total of £531 through the generous donations of the people of West Leeds and beyond."
The Crypt
St Georges Crypt was founded in 1930 by the Reverend Percy Donald Robbins and provides support to those who find themselves homeless or rough sleeping.
It provides 9,855 nights of accommodation each year for those who find themselves homeless or rough sleeping, as well as three meals a day, showers, clothing, specialist support and somewhere safe and warm to stay.
Abbey Inn history
The Abbey Inn dates back to the 18th century when it was a farmhouse, becoming an inn in 1826. It was then bought by the owners of the dye plant next door who could monitor their workers' drinking habits.
The Abbey was also used as a mortuary, taking in the bodies of the many suicide victims from the nearby river and canal.