A West Leeds author has written what is believed to be the first historical novel to be set in Wortley.
Clare O'Keefe launched the book – called The Sun and Planet Wheel – in Armley Park at the weekend, and says the action takes place between 1790 to 1797. She said: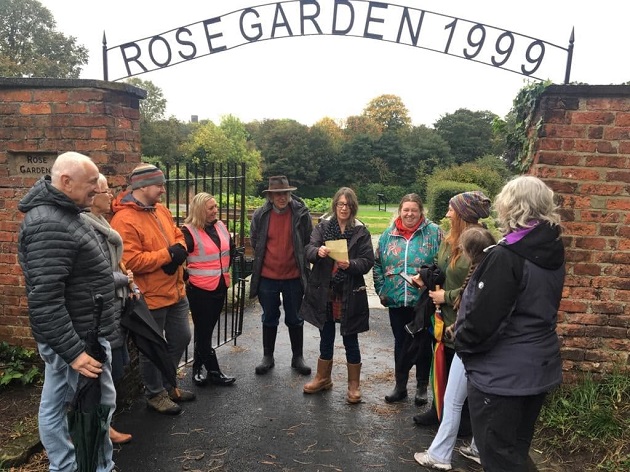 "It's the story of the most famous people in Wortley that you have never heard of!

"It is part of the forgotten Heritage of Wortley. Here, Listed buildings and landscape features are neglected and ignored. "
The book is the product of many years research and is described as the true (ish) story of the Bateson family of Wortley set in around 1795.
There are three researchers – Ms O'Keefe, her husband and John Wilkinson of Armley. who is descended from the one of the protagonists in the story.
Ms O'Keefe added:
"The Batesons were clothiers who owned a water mill on Wortley Beck and went on to purchase the second Boulton and Watt steam engine in the township.

"Their story is the also the story of Leeds; of the growth of the woolen and the engineering industries, and also the story of St John the Evangelist parish church on Dixon Lane where the tombs of the Wortley clothiers can be found.

"The Batesons owned the TV Harrison playing field on Oldfield Lane way back in the time of the Tithe Map. At one time they owned most of land in Wortley and their descendants include not only John Wilkinson, but the historian CV Wedgwood and the Victorian writers, Mary Ann Everett Green and Evelyn Everett Green."
The launch of the self-published book was in the Rose Garden, Gott's House, Armley Park with the Friends of Armley Park and the Sunday social activity group.
Present were Jenny Meehan, Cat Hyde, Michelle Gittens, Diane Dawkins and families. Wade's Ranger Claire Rogers, researcher John Wilkinson, cover designer Harry Bratt and other friends and family also joined the celebration.
The Sun and Planet Wheel is on offer as a promotion on Amazon for the next two weeks at the special price of 99p.